One Of Us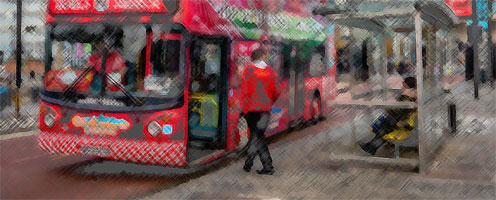 Ten minutes late, and the usual
scrum; no one barges old women
out of the bus queue,
but tactics are hostile here.
Like rush-hour drivers we edge
forward into half-imagined spaces,
spearing shoulders into tiny gaps
from where we rain arrows
of timid glares, the back-row driver
ready to spin his wheels
and pinball down the straight.

And from the kerbstone of an eye
we stare at the bus bay
the way racing-car drivers
who never made it to the first bend
wait in the pit-stop with spare wheels, spanners,
and bland, belligerent faces; envious
and bitter in quiet English ways:

-- for we are the ancestors
of long-bow men
whose bone-scraps are churned
when the farmer furrows deep;
the flints we loosed into the air
reduced to a scrap of bone
or an old bus ticket.
Who surrender to the bliss
of the sharp chicane
when our engines stalled at the flag,
and pike-men shoveled us
onto the bus

to hunt down window seats;
because to look out at nothing
is better than nothing
to look at. Is there time
to watch a dead bird
fall like an arrow to the ground,
clock in before I'm counted out?