Searching for Amédé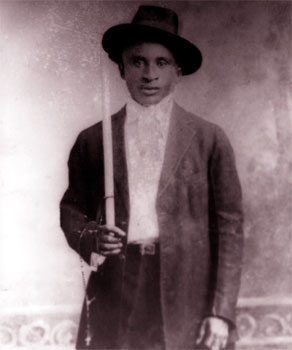 "Oooo, mama, je m'en vais" in his high
lovely tenor Amédé sang, his fingers
pumping the buttons, and off they would go:
"One step, two step, La Valse De Gueydan,
La Valse Ah Abe," dancing all night
in the yards, on the porches, Cajun and Creole
accordion, fiddle together, Ardoin
Dennis McGee together—it had
to end badly. Which is why you don't
believe Amédé died of venereal
disease in that place where they buried him
in 1942. Story
is he mopped his sweaty face
between dances with a handkerchief
proffered by some kind white woman
and BROKE THE UNWRITTEN LAW. He was set
upon as he walked home in the wee hours
by a gang of righteous, white (also
probably drunk) thugs, who beat him,
ran over him with a Model A truck,
and left him for dead in the road. His body,
discovered a few hours later, was taken
to Pineville hospital where he lived
some weeks or months unable to speak
(his larynx had been crushed) or eat.
A friend at the time said later, "He didn't
know whether he was hungry or not,
he was plumb crazy." You believe
this story because whether it happened or not
it has about it, a certain primary
truth: truth to the times in southern
Louisiana with its unholy racism
and brutal history of lynching. Dennis
McGee had to ask his white friends before
every dance if Amédé was welcome.
It's hard to know whether things will be
better or worse if the proposal
to name him Honorary Dean
of Creole Music at Lafayette
goes through. A fine statue of carved
steel now represents him outside
St. Landry Parish Visitor Center
there, but not only there and not only
in the thirty-odd records he made, now scratchy
and old sounding; though often backed up
by McGee, singing always his own
blues, singing always to one person.
Not only there, you'll find him in
the bluesy unique sound that merges
past and present as feet of jitter-
bugging boots from cars and trucks
jammed up outside the dance halls
of southwest Louisiana and southeast
Texas, no matter now the Cajun
Or the Creole.
                    It was from this music
Schultze caught the blues, traveled
with his accordion all the way
from a German salt mine to dance himself
to death in a south Louisiana dance hall.
Ah, but he died strangely happy;
and back home the folks who laid him to rest
took up his music as best they could.
Zydeco translated into the sound of
an indifferent good German town
band, playing a thing unfamiliar.
"Zydeco sont pas sales"
making no real sense until
you find out it means—
I've got the blues, ol' buddy yeah . . . got the blues.