Hoops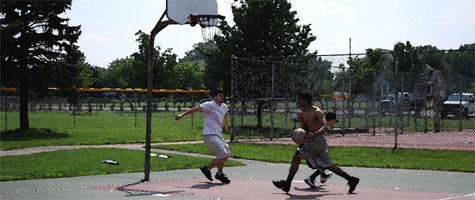 In vest, short shorts, quick reflex points,
our up and over, chain-link fence,
we traded jokes, paraded skills,
especially under watch of girls,
as learnt to make a better pass,
slow climbed team pecking order, cheeked,
our early learning underway.
Lithe limbed, grown pecs, less heaving chests,
we argued, competition rules,
but knew that friendship surpassed wins;
we found that bruising brought out best,
concern,
take care
, strip bandages,
best treatment, algebra of bones.
We cursed at dogs which mucked about,
grass scraped together, rubbed along,
and rolled our joints to reach our dreams.
Short bounce, tall slide, taut words and terms,
vocabulary of the court,
and when were caught, swore under breath,
the oaths we'd take another place.
While palms were crossed, high five for some,
as sentence passed, no spin at all.
And now this frame is old, grey, tired,
waste band that sags, hangs out below,
with knots, sad bag, though ties still hold,
wee lads that made it to the man.
I guess this now a sunset cause,
the last post calling, rusty links,
as green tufts breaking through the tar,
our baby stubs, where we first puffed.
Buddleia blooms, flit butterflies
now hover where we stood our ground;
but soon I'll lie and rest awhile,
those sods around the plot I chose --
a final hoop, then down to land.