A Boy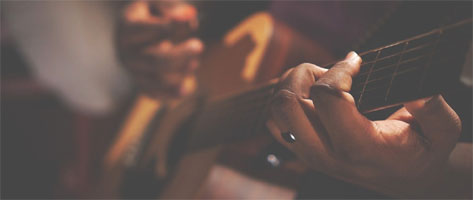 A distant cousin from Madrid
has dropped into our lives this week,
a gangly teenager ambling through the house
like a colt through a meadow, all wobbly knees,
ready to stroll through life and Chicago
to practice his English. Blissfully free of his parents,
he can eat whatever he wants,
throw his tee shirts and baggy shorts
on the floor of the tiny guest room, and fill the house
with tunes from a borrowed guitar.
He strums each night before dinner.
He knows the English words to "Blackbird"
and "Tears in Heaven." His wispy Spanish accent
alights like a butterfly on the living room furniture—
soft chairs, an old mahogany table, windows that let in light
to turn his hair into halos.
We learn that he plays cards, goes camping with the scouts,
and likes to make pasta with
longaniza
, a sausage
which we locate at the local Mexican grocery. Tonight
he will cook for us, the old folks his grandparents' age.
Next week we will send him back to his mama
on the overnight transatlantic flight,
when he will sleep little and watch too many films.
Now he gives me a lesson on his favorite Lorca poem,
in which the man returns to a woman who has died,
and green is the color of death. Together we ponder
the bilingual edition that pops up on his cell phone. Then,
he lopes into the next room to practice the changes
in something by Elton John, who haunts the pear-shaped
instrument with echoes of two continents,
filling this old house with youth that floats away
the moment each note evaporates into song.