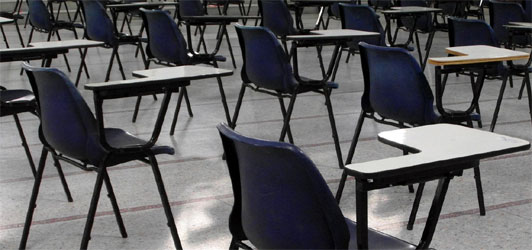 Translated from Hindi by Patricia Burke Wood


Ana Gilbert teaches French.
Strict and disciplined. Her students are afraid of her eyes. The force of those eyes is as pointed and sharp as an arrow. They could wound with just one glance. She actually speaks very little, but she says a lot with her eyes. Only when her eye language doesn't do the job, then she uses her words; they burn like chilis sizzling in oil.
Just the other day, she was in the middle of her lecture. One student appeared to be whispering to the person beside him. Ana did not tell him to stay quiet, she just wrote his name on the board, then said that this student would be recorded as absent for the next week.
"Forgive me, Miss Ana."
"No, absolutely not. The mistake must be punished."
And with no further contemplation of forgiveness, Ana began again to teach. It was not the first time something like this had happened. A student would come a little bit late to class or didn't hand in their assignments on time, and she would get very angry. You could see in the students' faces that they were wounded. Her scolding silenced them completely, the hot flash of her eyes crushing them like something in an ashtray. Sometimes the fire sparked. Despite living in fear, the students don't speak out. The main reason was their exams. Miss Ana had control of the mark book. Any uprising could lead to bad results. So, everyone stayed quiet.
The next day, it so happened that the student who begged forgiveness didn't change his behaviour, notwithstanding Ana's rules. The whole class was astonished. Many students had lowered their heads so that Miss Ana couldn't read what they were thinking. In the classroom there was a such a tense silence that you could hear a pin drop. The students are usually so focused on their studies and their future that they don't have time for such things. There's a bit of buzzing but it quickly goes back to normal.
And so it went again today. After the class was finished, there were sharp words outside.
"Wasn't that strange!"
"Yes, it's just weird..."
"Why is she always so angry?"
"Maybe there is trouble at home."
"So, she takes revenge for her troubles at home on us?
"And yet she teaches very well. She really has a gift, she can make every complicated grammar rule make sense very quickly."
"Honestly, if her behaviour were better, she would be our university's best teacher."
The students' assessment of Ana is fairly compelling. All's well that ends well. Miss Ana's method of teaching explains a new language wonderfully. During class, no language other than French is allowed. While Miss Ana speaks harshly for discipline, the students grasp the complexities of the language and speak only French in class without worrying about what was wrong or right. Because of this, the technique of her students is strong and its result is seen clearly in the form of their good grades. So students tend to forget these little scary moments in the class, and see Ana only as a good, but tough, teacher.
This is Ana's situation in the department as well. Her personality leads her to be detached from everyone else. Nevertheless, while her colleagues are not friends, they aren't enemies either. She doesn't talk too much with anyone, but rather just gives her full attention to her work. All the time she is not at home, she is at work. In a meeting, many times her presence and absence were noticed either way. Things are said with a side-eye to her personality. It wasn't that Ana was unaware of their looks, but she found satisfaction in her own manner. She looked at every individual person she came into contact with from many angles, whether it was her students, her colleagues, or anyone else.
Her class was comprised entirely of students from many countries. Many colours, many languages, and many faces. A somewhat bewildering mix of Asian and South Asian students. In her class, there were students from a variety of countries like China, Japan, Indonesia, Korea, Malaysia, Thailand, Pakistan, Nepal, Bangladesh, and India. Maybe this is why her personal troubles also seem global. Ana often feels that all these students are like souvenirs representing their respective countries. When she chats with a student, it isn't actually just her student, but rather their country she is speaking with. Sometimes it seems like every country's problems come together and attack her. It always feels like the weight of all the countries of the world is on her shoulders. Until now she has never been outside Toronto. The whole world outside of Toronto, of its own accord, is coming to her class.
In the essays of her students, in their homework, she is getting to know their countries and homes, maybe even in a way that she couldn't find in a book. Because of this, Ana is now acquainted with the finest details of very large countries. And knows that she is not alone in developing a cold heart after a bitter childhood. Their own suffering is clear in the sentences the students have written, and Ana finds some comfort in that.
Her own childhood is also a cursed history. She grew up in a house that was not a home, but a house of torture. Usually, the name of one's mother brings a smile to people's faces, but to her face it brought hatred and loathing. She never managed to determine whether her father was good or bad. He had abandoned the home a long time ago. Social service institutions had been sent to take the little girl to an orphanage, away from the mother who was drowning in drink. She started working while making her way through high school. While working, she graduated with a degree in French. She worked during the day and studied at night. She had heard that suffering makes a man shine, and so she polished her future. It was just her personality that she could not make shine. The suffering from life's bitterness made her cruel.
Now there is the French language and that is it. This is her life. Through her own effort, she makes a life far from any deprivations, and she has walked away from narrow-mindedness. She works very well, but her life had been bitter. That bitterness has spoiled her hard work. Her mind was entirely shaped by her experience. She could never manage to understand that her method of scolding was wrong. Over her lifetime, the inner seed of hatred had already grown into a tree. Every person seems like a conspiracy to her. Anything that looks to her as depraved, she decides that it is. A big earring in one ear and nothing in the other. Eight to ten necklaces of different lengths hanging around the neck. Her piercing look makes students pay more attention to her hair while she teaches. But many times, she hides her eyes in her hair. That rain of fire in her eyes then stays hidden and cannot escape. She still burns in that fire.
She wears colourful clothes, like she needs to dress in every colour at once. All of the colour that is absent from her life is in her clothing. But all the colours stay outside, she feels none of it inside. In there is just blackness, as if she is soaking in all the colours at once. Maybe she just wants people to understand her eccentricity as her unique nature.
She does what she likes. As she speaks, she bites out every word. It's like she thinks the young people listening don't understand her words, so she barks them one at a time. She believes that each person in front of her has thousands of eyes, not two. Everyone is seeing her with a different eye. She wants to crush their eyes instead of trying to read them. Every moment she changes the ways she looks at things.
She also has to consider that people are fake. How they are is not how they are seen. She, too, is not how she appears. She wants to say to everyone who complains, "Look, I am actually amazing."
When she was very little, now and again she would have to roll her drunk mother over. A hungry little girl who could not get food. If she cried with hunger, her cheeks went red with a slap. Many times, her mother had left her and gone off somewhere. All that fear from all those moments has now descended into her anger. The dark shadow of her past has wounded her entire personality. She resents whenever in class their attention doesn't stay on her and what she is saying. But one thing that holds her own attention without fail is how she wants not to show any of her pain. She wills herself to do it and she finds a strange relief. It makes her feel like the world is at her feet and she is completely in charge.
She considered an orphanage a home, but it was likely she would feel the same in any home. Ever since then, it has been an obsession for to see the real person inside any human being. She is completely transparent, she doesn't put on an act in her life.
All the problems that have been tormenting her until now, she truly wants to transform them into happiness. She had confronted the truth then, and she still does. Only her perspective has changed. She is a very good teacher, but not as good a human being. Class after class, she would make a good start; by the end, all the students were used to her bitterness.
One day something happened that changed Ana completely. The class hadn't started yet. A student Davis's fun-filled "hello" annoyed her: "I am not your friend. Please say hello properly."
"What?"
"Do you remember that this is not English, but French class? Say 'bonjour'!"
Davis realized his mistake, but he looked at her with a questioning look. It wasn't such a big mistake that there was cause to get angry.
"But…"
"It doesn't take too much for you to say 'bonjour' to the teacher."
"I said sorry, Miss."
"Get out right now."
Davis was taken aback, and gave her a full look and said, "There's no need for this much anger, Miss Ana."
"OUT."
"Yes, yes, I'm going. I won't be able to learn the language in the shadow of fear."
Ana was shocked to see his attitude. Davis probably knew that he would have to face the consequences. As he was going, he turned back once more, looked at her and said, "Take my name off your class list if you want."
And he walked out. The whole class was totally speechless, as if they had seen a ghost. Ana lost her composure. "Please go, all of you. There will be no class today."
All the students left as quickly as they could. She could still hear their voices from outside: "This teacher is our souvenir of this university."
Ana was shaking. The surge of anger she felt in the empty classroom was like a heavy board coming down on her head. Out of everything from the class, it was her collision with the word 'souvenir' that felt like an attack. The distress was like a blow from a lathi, and the greatest distress was that this attack had struck just the right place. She spent the whole class period there, pacing in a circle. The student Davis' bold face in front of her would not turn away. It was like the empty classroom was screaming. From every direction came the taunting voices from the students' mouths. She finally left, and headed straight home from class. She felt no hunger or thirst. That night she could not get to sleep. The unusual event had rattled her. All the students in the class appeared before her eyes, waving like flags of individual countries, and shouted at her, one after another: "Souvenir! Souvenir!" Ana had a flag in her hand, too -- of Canada. A growing crowd of them marched towards her class. On their flags were all their faces. Above the maple leaf was a large picture of Ana's face.
Finally, the long night turned to morning.
Today, she has made an effort with her hair. She's put on a black blazer. She also put on her better-than-everyday shoes. Instead of her usual bag, she's brought a good one, and walked with it towards her class. She entered the classroom and saw that all the students were looking at her in amazement. The language in her eyes was tender and sweet. She smiled. To see her smiling like this was new for all of them. She was facing the student Davis, who was waiting for his punishment. Ana's eyes met his as if she was saying thank you. Today all the faces and countries of Ana's class looked beautiful. She was laughing openly while she taught. Before now she hadn't felt the need to turn around and look at them. In today's class, she has found actual peace as she looked each student in the eyes.
Towards the end of the class, she paused for a moment and said, "Davis, thank you very, very much." As she clapped her hands, the whole class got up and applauded, filling the room with the sound.
That student named Davis had started a nice story in Ana's life, one which only began today.
After class, as she entered her office, she saw a souvenir of Canada that she had made, sitting on the table and smiling at her. It was as if the smile that was now on Ana's face had found its way into the souvenir. Ana picked it up lovingly and gazed at it, like an artist trying to fill it with the vibrancy she now felt.
Patricia Burke Wood, Ph.D.
Hansa Deep, Ph.D.