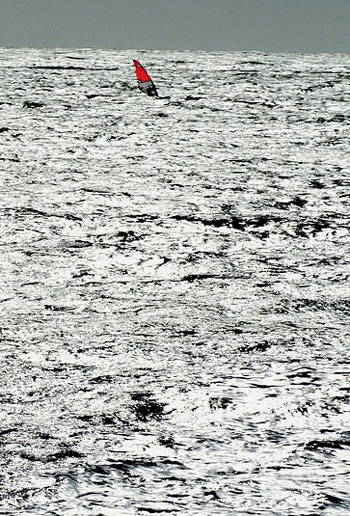 I sit outside La Cabane, a small beach bar, along the coast from Denia, shack-chic white, driftwood art, the San Miguel chilled, the tapas tasty. It's late afternoon, a welcome breeze catching the fresh season's new umbrellas, gentle conditions for beginner windsurfers. There's a dozen or so close to the shore, all with red sails. Further out are those with experience, their rigs in duotone colours: orange/light blue; lime/white; red/yellow, creating a dance of speed and agility beneath the vast blue sky with a few white clouds, high and slight. I check my phone and allow myself a smile. No one seems to know where I am.
I watch a fumbling attempt by a beginner to uphaul his sail, the weight of the water sucking it down. Other boards weave either side, some with an air of arrogance, others more tentative, indifferent to the struggle. Sometimes one has to learn the hard way. At last the sail is upright once more and away.
I order another beer, curious to see if he can cut some self-esteem. I follow the red sail's progress as it heads away from the rest. I have a brief chat with the waiter, Ian, an Australian, who wears for today, ripped washed jeans and an AC/DC tee-shirt which says: FOR THOSE ABOUT TO ROCK WE SALUTE YOU. I'm not about to rock, myself. Not anymore. Four tables are occupied by couples, and there's a party of five moving noisily towards the exit. I am the one alone. I've left them to it back home. If they want a rest from me so be it.
The red sail: I pick it up, barely discernible. Using a menu to shield my eyes, I search again to confirm what the speck must be. An unease is creeping up on me. I've been numb for too long; I need to care. I will for him to turn round for the other beginners are coming in, their vinyl windows shimmering, most already back on the beach, some folding their sails, rolling from the head as advised.
'Ideally, they should be left to dry first,' says Ian. A black Labrador lopes up the five steps from the beach, panting from the heat. He's had enough for today.
I ask Ian if he can see anyone still out there. 'One big gust of wind would do it,' I speculate. 'No one to know until it's too late.'
Ian shakes his head. 'That's what the life-guards are for.'
A woman is wading into the water, carrying her board with one hand and the rig with the other. She's the senior instructor, taut limbs, loose, dark hair, her sessions done for the day. I noticed her the first time I came down here. I study her stance, head forward, hips high, straight front leg, front foot pointing forwards. I've seen her patience while teaching the basics. Initially incapable of balancing for more than a few seconds, the beginners' frustrations appear all too visible. They think it will be no hard task to experience a new form of freedom. They think it can be instant.
The instructor strikes me as superb and I want her performance never to stop but of course it must. Heading towards me behind the last wave of the set, she steps off, leaving it late, front hand on the boom and grabbing the back strap of the board. Mesmerised by her technique, I continue my gaze. Now on shore, she stands tall, reaching up to tie her hair in a ponytail. There are no windsurfers to be seen on the water anymore.
Ian nudges me. 'Early closing tonight but a live band tomorrow evening, music to leap around to. Endless possibilities.' He wipes my table. 'She's something isn't she?'
'Yes.'
'Amongst the last of a dying breed. It's kitesurfing now right along the coast. Any sign?' he asks.
'Sign?'
'The beginner you thought had gone off alone – did you see him come in?'
Vanished from my mind. 'No,' I say, all concern eclipsed. 'No.'
'Check with the instructor. She's your best bet.' He takes some empty bottles to the bar.
I could run down the steps and interrupt her as she checks her board for dings and cracks but she looks tired having given it everything. Not a good time to approach.
Ian returns, stands behind me, leaning on my shoulder, the Labrador by his side. 'Been down to speak to her?'
A van arrives decorated along its length with a fantasy image of Wonder Woman riding a wave. The driver reverses to where he knows its firm. He swings his door open and looks down at the row of boards and rigs, checking none are missing as the instructor runs towards him. You can see his lips move as he begins to count. She wraps her arms around him and kisses him on the mouth. I stand up to leave, straining to see the sail out there, somewhere. I think I do. 'Hey!' I shout at the two of them, pointing. 'Look.'
The kissing stops. They turn to me, then towards the horizon. Within a very short time, an orange lifeboat sets out.
'He'll be exhausted,' Ian says to me, 'but they'll get to him. I'll tell you what, you may have saved a life.'
The instructor and driver nod their heads.