The Bone Shop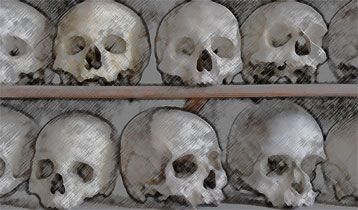 Collectors lurch up a set of narrow, dark stairs.
Within their chests they feel a hot wave of desire,
to procure one or more of these vendibles.

There's stark sensations skeletons feel without their former cover,
the body's framework on display,
now deposed from the seats of the wealthy only by death.

These were not the fallen,
nor the ignored.

These were those who walked grand halls
in affluent mansions,
ones once dressed in satin,
who strode carrying sapphire handbags,
and pearl handled walking sticks.

Enthusiasts can spend one whole evening sifting through skulls,
upon which sits the sweetness of vanity.

Shoppers can spend one whole evening
scrutinizing the singular beauty of various limbs,
to find the best rarities.

Some hobbyists prefer scrounging through
the grouped league of broken parts in a bin,
considering the detailing of fatigue for the older bones.

All evaluating the incontestable beauty of the eggshell and alabaster surfaces,
hoping the ownership of at least one item
may bring a bit of luck toward accruing their own prosperity.