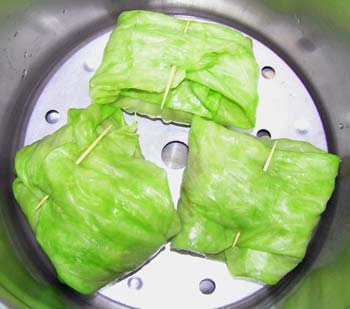 I was still in elementary school when I was first introduced to cabbage rolls. Each summer, I enrolled in the local 4-H Club, an activity for youth, aimed at expanding their abilities, keeping them busy and out of trouble, and instilling in them perhaps a bit of civility and higher purpose. Adults volunteered their time to instruct and form us; my idol was the worthy Mrs. Schlegel, who bravely gave of her time, effort, and kitchen to teach about Foreign Foods. One summer, we kids were invited to attempt to make Cabbage Rolls, though whether that was the summer of French Foods or Hungarian Foods, I cannot recall. I just remember that they were rubbery and insipid, cabbage leaves wrapped around beef and a little onion. I never had any desire to taste them again, and certainly not to make them ... until my first taste of real golumpki.
To my surprise as a young adult, I married a man of Polish descent. Upon a visit to his parents' house, I learned that the dinner was to be "golumpki" (which was pronounced 'go-WUMP-ki') -- that is, cabbage rolls.
I prepared myself to be martyred for my true love, especially when told that the accompaniment of golumpki was mashed potatoes, and even more when the meal put on the table included ketchup.
Truly I thought I was going die of gastrointestinal disorders if I partook of such a meal. But I was heartily encouraged by my new family to garnish the cabbage roll with ketchup, and try a bite of combined mashed potatoes (with a tad extra butter) and ketchup-tainted cabbage rolls. Everyone at the table watched me for my reaction. I forked. I bit. I nearly fainted with pleasure. The golumpki were simply heavenly.
Juicy, tender, savory, an explosion of harmonious tastes, these "cabbage rolls" were as far removed from the memory of 4-H cooking class as the moon is from a flashlight. When dinner was done, and everyone could hardly move because they had eaten so much, I begged the recipe from my mother-in-law.
She and I had two points of common ground: One, we both understood the idea of "enough" and "some." You cook up "enough" rice, and add "enough" of it to ground beef and "enough" chopped onion. You add "enough" salt and pepper so that it will taste good to you. You use "some" tomato sauce, and "some" chopped tomatoes besides. Two, we both knew how to use a pressure cooker, a skill mostly lost these days, to the detriment of households everywhere.
The recipe isn't completely arbitrary; you definitely need one egg, and one head of cabbage.
Over 30 years, I've cooked golumpki again and again, playing with the recipe, fine tuning it. If I announce that I'm making golumpki, everyone rejoices. I could announce that I was writing a new novel, and the rest of the family would say, "Oh, that's great," and mean it, but if I say I'm making golumpki, they burst forth in cheers and begin to salivate.
Here's how I begin. I buy a head of cabbage and if I can get one with nice floppy dark green outer leaves, so much the better. I have about a pound and a half (.7 kg) of hamburger, uncooked and ready. I cook up a cup of rice (all right, 250 ml) and have that ready as well.
Now the variables begin. In a huge pot of boiling water, I roll the cored head of cabbage back and forth until the leaves soften and I can pull them loose and set them in a colander to drain. For a big batch of golumpki, I'll try to pull 16 leaves loose. (You figure a bare minimum of two golumpki per adult, and don't blame me if your guests end up trying to stab each other for the last one.) When I have enough loose leaves, the cabbage head comes out of the boiling water and is put aside. It has a higher purpose that will come later.
Chop one whole yellow onion. If you like onion, make it a large one, if you're a bit iffy, make it a medium onion.
Mix the onion with the ground beef. Now here is where you become the mad scientist of Frankenstein fame: you want to try to gauge how much ground beef and rice will fill the cabbage leaves you've pulled.
Cooking is not a science. You can follow a recipe to the milliliter and have something taste like a nightmare feels, or you can fudge on a recipe and end up with something that is a monument to your ability for the rest of the memory of your diners. If you love meaty flavors, you want a larger meat-to-rice ratio. If you're more into just a flavor of meat, use more rice, and don't be afraid to add more onion.
Add a chopped tomato. Or not. I do if I have them. Add some of the leftover cabbage, chopped as finely as you can.
Add the egg -- it makes a natural glue to make everything hold together in a magical way.
Salt and pepper and garlic powder (I love garlic powder) to your personal preferences or leaps of fancy and mix thoroughly.
Scoop a couple tablespoons of the mixture into each cabbage leaf. Fold the bottom of the leaf in, then the sides, then the top, and secure with a toothpick or two. Place these precious rolls on a rack in a pressure cooker (the way my family devours these, I use two cookers at a time), with a cup of water in the bottom. (Never fill your pressure cooker more than 3/4 full.) Pour a can of tomato sauce over the rolls in the cooker.
Cook at 15 pounds pressure for 8 minutes.
**A bit of an aside : Most, if not all, readers will be wondering what the heck you do if you're not acquainted with the mystical device known as a pressure cooker. The recipe will work with a big covered baking dish or Dutch oven, at 350 degrees F. (177 C.) for one hour, or until the cabbage is really tender. I've baked faux-golumpki meatballs, but you have to cook the chopped cabbage part before you combine it with the beef, or you get ickily crunchy golumpki. Now, back to the golumpki in the pressure cooker.**
Do not throw any of that pressure cooker juice away. I suppose you could add some thickening to make it gravy-like, but that extra juice just poured into the plate of golumpki will get used over the potatoes or over the cut-up golumpki.
We make golumpki sometimes on Dia de los Muertos in honor of my late father-in-law, who once told me I made the best golumpki he'd ever had, bless him. We make them when the weather is chilly and rainy and we need heated from within. We make them whenever guests visit and ask for them as a treat. And we make them when one of us sees a good-looking cabbage at the store and starts to imagine the tender delicacies on a plate.
Oh, and they reheat even better.
The fact remains, I will never understand why the ketchup thing works, but it does. Trust me.