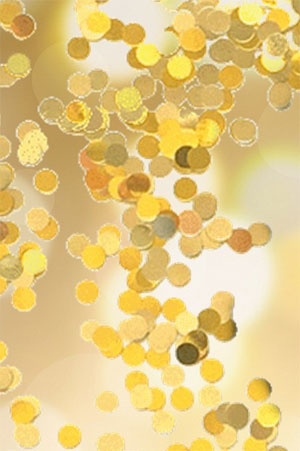 Chapter Thirty-seven: The End of the Year
When I woke this morning, the first thought I had was that the room was clean. No mildew smell, no lingering smoke smell from the walls. And then, I am safe. No chance of a repeat of breaking down my door, no one to try to rob me. I nearly went back to sleep, cuddling my pillow with its lavender sachet scent. But then I remembered that I had the day off, such an unusual event at this new dealership, and I found enthusiasm for the day, New Year's Eve.
I remembered last year, at the same time of the morning. Tom woke me, at first light, naked and sneaking into my bed to make love to me. He did that, every New Year's Eve morning -- it was our way of celebrating the end of the year. We would lie, all tangled up with each other, warm and sweaty, and grateful for the years we'd had together, reminiscing about happy times, savoring our presence together.
The memories, I've still got them. Just not him, the warmth of him, the sound of his laugh, the flight and timelessness of making love. What have you left me with? I asked him, just yesterday morning.
I didn't know the answer, or didn't remember the answer, but what he left me was his family. Somehow, he gave me a friendship with Philli -- and honestly, I don't know how that happened -- and a relationship with his daughter and his sons. I do know how that happened, I fell in love with the boys when I met them, and Gloria, on a day that felt like it could be a battlefield, reached out to me and became someone I knew I could trust.
Rolling out of my beautiful bed, looking out the windows at the lawn and trees, I got dressed in jeans and a hoodie, whipping my hair up in a spider-clip. In slippers, I descended the stairs.
Gloria, Will, and Ben were all in the kitchen, shoulder to shoulder, bickering about counter space and what should be done next.
"Looks like my kitchen got invaded by red-headed ants," Maria said, from a chair at the kitchen table. "Good morning, Lolo. How you sleep?"
"Good morning to you all. Maria, I slept the sleep of the safe and the happy. Maybe one of the best sleeps of my life."
"This is a good house," Steve said. "You can feel it, like it was good stuff coming from the walls and ceiling."
"Now it is, thanks to all of you," Maria sternly spoke. "Before you guys, it wasn't nice at all. Just a place."
"We're setting up our mis en place, trying to convince Will that clams do not come first when we're cooking chowder," Ben told me.
Gloria laughed. "Mostly we're arguing with each other because we haven't had the liberty -- the luxury -- of doing it since before we found out we didn't have enough money to survive two months in our home. We all had to pitch in and be nice and cooperative with each other, and it's been draining our creativity."
"One hour until the storm arrives," Ben announced, "maybe we better get this soup started before we lose power. Shut up and start chopping the soup base."
"I can do the celery," I said. "Gloria taught me how when we lived in the old house together."
"I'll do the carrots, mince them fine as dust so that Maria doesn't notice them; Will, do you possess the capability to cut up potatoes into 3/8 inch cubes, or will you have to go get Van Duyken's backhoe to smash them?"
"3/8 of an inch, or 5/16 -- where do you keep your kitchen micrometer?"
"I'll do onions," Gloria stated. "Then I'm done and the rest of you can take over."
Steve called out, "Who all wants ham and cheese sandwiches for breakfast? Maria, do you mind if I set them up here on the table while the Ants are swarming the counters?"
"No, go ahead. Gloria, you were wise to snitch all the cutting boards from your mother's kitchen. I thought you were just sentimental, but you were thinking ahead."
"I wasn't, but I loved them because I used them the most, and didn't want to see them go into the trash. I figured we could use them here or in the Bakers' kitchen, down the road sometime. Handy today, though."
Steve cut bread from a French loaf, and swept mayonnaise across the slices. He added white cheese, thin ham piled into a heap, some super-thin deli turkey, oregano, and after Gloria elbowed him, some finely chopped lettuce tossed in a vinegar and oil dressing.
Done with my celery chopping, I took a bite of the sandwich he served me. It was as good as anything I've ever had in a restaurant.
"Is this your own recipe?" I asked him. "It's very good."
"No, Gloria told me how to do it. She's what's good."
"She's good at looking shit up on the internet and adapting it to her tastes and needs," Gloria said, sitting down at the table. "The information is out there. Although I have to give kudos to my mother, who made hoagies for us when we went to Yosemite State Park for a day trip -- cheese, cotto salami, bologna, and turkey, with the lettuce. We parked by a river and had a picnic lunch that I've never forgotten."
"Good for Philli," I said. "I miss her."
Gloria frowned a little, but the conversation was interrupted by Ben, who let us all know that the onions and celery had cooked enough, and asked if there was anything else to put into the pot before he could add the potatoes and clam juice. "Add just enough water to cover the potatoes, and give them a few minutes to cook, then taste to see what seasonings you need -- the potatoes will absorb some of the saltiness from the juice," she told him.
She and Maria talk about cooking the way I talk about cars. My brothers were all about their cars -- and the gang -- and I found an interest in cars, too, in spite of them not letting me get hands-on with the tools.
The difference in expertise, though, is that Gloria and Maria will only become more authoritative as time goes on. And me -- I can read up on the latest developments in automobile manufacturing, but is that actually going to be enough to keep me selling cars years from now? I'm not stupid, I know that my face is my fortune, and this face is getting older by the day. Not that next week it's going to fall off or shrivel up or anything, but I can't keep selling cars forever -- this past fall showed me how fragile the industry is. And losing Tom last spring -- not only did I lose my best friend and the love of my life, but suddenly he wasn't helping out with the expensive rent of my lovely apartment, so I had to resort to my savings account to keep paying the rent. And then it was time to renew my lease, with the economic crash falling around all of us, and my landlords decided to cash in on all the people losing their homes and raise the rent ... without the Meltons, I'd have been out on the street.
"Looks like some deep thought going on," Gloria said quietly.
"New Year's Eve," I said. "A time to think about the past, and about the future. Of course, no one knows what will happen in the future, and no one can bring the past into the present, not really. Just memories, and not everyone remembers things the same way."
Ben turned around. "Part of me doesn't want to remember, especially this past year. Still hurts to think about never being able to see Dad again -- that's a future I'm not looking forward to, but I can't change it. And I don't want to lose any of the memories of him that I have."
"I wonder what he'd say about me working on a farm and sleeping in a barn," Will said, stirring his chowder. "He'd probably be astonished that I know how to work."
"I think he'd be just as outraged as Philli was about you working the almond harvest. After she took me in last fall, we went out for drinks one evening, and she went on and on about what a shame it was that a boy as smart as you was doing a hard and dirty job."
"Kept food on the table," he said. "And maybe I'm computer smart, but out on the ranch you have to be smarter than I am about the trees and the chemicals and the water. I don't think you can look down on what I do and say it's a shame."
"You could leave it behind in a minute, but you don't because you love it," Gloria said. "Last year at this time, you didn't love anything but pizza."
"Dad always bought our family's cars from your old dealership, didn't he?" Ben asked.
"He always bought your cars from me," I told him. "I got him a really good deal on a mid-size sedan, and not too long after that, on a minivan to safely carry his wife and little girl. Neither of you boys were born yet. He was one of my favorite customers -- when he came into the dealership, I knew he was going to buy a car, and my boss knew that, too, so we gave him the best prices we could to keep him coming back."
"What's next with this soup?" Will stirred the pot.
"Potatoes are done enough, go ahead and add your clams. Then the shrimp, then the cream, and we let it simmer for a while."
Later on, while the boys and Maria watched the thunderstorm on the porch, and Steve had excused himself to take a shower, Gloria said to me, "That was some clever re-directing of the conversation about your relationship with Dad."
"There was never any secret about me selling him his cars." I shrugged. "If they think about me being a salesman who knew their father, they won't look much farther than that. And since I knew their father, they'll be more likely to talk about him with me, and I'll have the joy of hearing more about his life."
"Funny, I thought if we talked about Dad, I'd feel sad and sorry, but I don't. It's ... I feel happier to be remembering him."
Me, too. I'd been shocked when I learned Philli had told Gloria about Tom and me, but I'm glad now that she did. It was difficult, after he died, to talk about him to anyone. Now I can, at least a little.
New Year's Eve. Time to think of the past, and prepare for the future. I haven't been to church since I met Tom and became his lover -- couldn't see the point in being the happy unrepentant sinner in the pew. But he's gone, and while I don't regret his love, I have no reason to stay away from church any more; church is about community, and I've been alone too long, and what's more, I can't continue to rely only on the Meltons for a connection to humanity.
Maria said she's going to the vigil Mass this afternoon. I'll see if I can hitch a ride, see if I can remember any of the prayers. And at the very least, I can thank God for bringing me to this house.