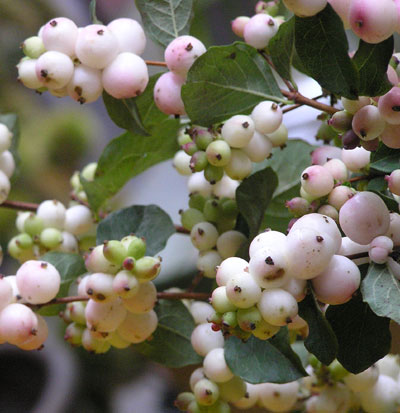 In central Pennsylvania, there was a shrub on the north side of my parents' house that grew white berries in the summertime.
Not only did I not know what it was called, I never saw such a plant again -- until last August, at a florist's shop in the Ferry Building in San Francisco.
Symphoricarpos albus is the name of the plant: Snowberry. That's a simple enough name for a berry that's as white as snow. (The ones in this picture were probably grown in the sun, and so have a rosy blush.)
I was fascinated by the shrub as a child, admiring its waxy white berries, so unique in my world. There wasn't another snowberry bush in all the neighborhood yards that we kids frequented, so our predations of its berries had to be discreet; snowberries (or "whiteberries" as we called them) were an integral part of summer pretend stews that we concocted for our dolls and toy animals. We didn't ask permission to use the berries, knowing that adults would have some higher purpose in denying us the ingredient -- something as incomprehensible as wanting to see the white berries on the bush, glistening against the dark backdrop of the foliage. We never ate them; if the grannies didn't pick them and can them, we all knew that they weren't edible.
I don't remember when the snowberry bush disappeared. There it was when I was little; there it wasn't when I was an adult. Inexplicable things happen during one's teen years.
The branches of ornamental snowberry at the florist's having unleashed a cascade of memories, I was eager to reacquaint myself with that friend of my youth. Once I had a name for the creature, I looked it up on line and in my Taylor's Encyclopedia of Gardening. None of the sources have much to say about Snowberry, except that it is deciduous and bears white fruit ... at least not much that agrees. One source says that the berries are edible but bad-tasting; another says that the fruits are toxic. Taylor's skirts the issue and says neither "yea" nor "nay." Taylor's does say that the plant doesn't grow taller than three feet, but other sources suggest it can grow as tall as nine feet. All of them casually mention that the shrub proliferates by suckering -- which means that if you plant it in a reasonably kind location, it's going to take over everything. Maybe that rude habit is why one doesn't see them often.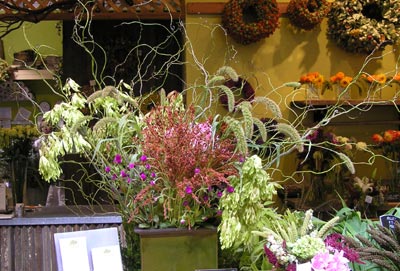 The shop where I saw the branches of snowberry is called Oak Hill Farm.
They purvey a lot of beautiful and interesting bouquet components there; in this arrangement, frankly, the only plants I recognize are the pinkish-purple pompoms of gomphrena (although that's the longest-stemmed gomphrena I've ever seen) and the bare stems of a corkscrew willow.
Not that they don't have "regular" flowers --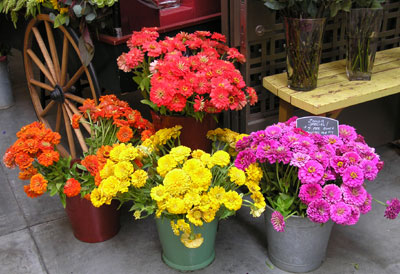 this display of zinnias caught my eye immediately, making me wish I'd followed through with my Spring resolve to plant zinnias in my garden.
I will follow through with my resolve NOT to plant a snowberry bush in my garden. After reading about the mysterious shrub of my childhood, I have come to understand that it was the frozen winter ground of Pennsylvania that kept the snowberry bush in check -- here in California, where the ground never freezes, the charming plant of my memory would probably take over completely and swallow up the house.
When I begin to long for that sight of childhood, I'll make a trip to the florist's instead.