Say "Lima Beans" to your best friend and watch what those words do to their facial expression. Possibly only "okra" or "stewed carrots" can match the intensity of revulsion that the prospect of a dinner based on lima beans can evoke. And yet, ham-lima bean pot pie (abbreviated to the simple "potpie") has been, all my life, one of my most treasured and favorite foods.
In the first place, there's lima beans and there's lima beans. One incarnation of them is green, hard, and nasty beyond all hunger except the one that will make you eat bugs as well. And then, possibly the way the creator of the universe intended, there are the lima beans that are dried, and stored for a while for the nastiness to leave. Then the dried beans are soaked, and cooked -- elevating them from icky green limas to the transcendent renamed "Butter Beans."
Taking a trip back through time, butter bean limas were planted in the garden, harvested, and then dried for use in the long winters of fabled Back East. Those years before refrigeration, winter food consisted of the things that could be stored: dried beans, root vegetables, some hard fruits like apples, flour, and if you were lucky, seasonal meats, and very likely, smoked hams. The dried lima beans taste different from dried peas or white beans, black-eyed peas, or what have you. They have a thin skin and a well -- buttery -- texture when mashed that makes a tasty, thick, rich broth.
So way back when, some sainted woman had nothing but a bit of ham and some dried limas and some flour, so she boiled up the dried beans, chopped up the ham, and made noodles from the flour. If I ever get to heaven, I want to meet her and shake her hand. I know she's there, because the combination is definitely Food of the Gods.
I learned the art of potpie from watching my mother make it, and she in her youth learned by watching my dad's aunt cook it. Etcetera, lost in the mists of antiquity. But since it is a recipe learned by watching, this recipe has never been written down. No set amounts are available. How much ham? Well, enough, a little more than a double double handful of little cubes. How much butter bean? Well, enough to balance with the taste of ham. And in the noodles, how much water to mix with the flour? You guessed it: ENOUGH.
"ENOUGH," you say, "What is this dish?"
Ham-lima bean pot pie is a stewy pot of ham cubes, mashed butter beans, and homemade noodles. Sounds dull, tastes so good your eyes roll up in your head with the first bite. A good batch will bring tears to your eyes. A bad batch will merely make you smack your lips and think about how lucky you are even to have a bad batch.
My mother used to cook up a whole ham in a pressure cooker or large pot. The cooked ham was sliced for ham steaks (usually served with scalloped potatoes), sliced thin for ham sandwiches, and enough cubed for ham meat pie (another heavenly dish) and for potpie, because otherwise, the family would rise in insurrection.
Mom would mash up a can or two of butter beans (sorry, we lost the gardening and drying-our-own knack in the 1930's) and set them to boiling with ham cubes and ham broth. She'd mix flour, salt, and water to make a dough, and then roll the dough out to make a thin sheet of pasta to be cut with a sharp knife into noodles about an inch wide by four inches long. Into the boiling broth and ham soup for about half an hour, and then she'd pepper the top of the broth, and then...bliss. Dad always had to have soft bread and butter with his plate. We served it on flat plates so that it would cool quickly enough for us to feast without burning our tongues. Too good to wait for!
In this modern age, I take a bit of a short cut. In grocery stores, they frequently sell packages of ham cubes. These pound-or-so packages match up well with two regular sized cans of butter beans. If the ham is really lean, add a half-teaspoon of bacon fryings or butter. (Low fat leaves you too hungry.)
About two cups of flour, and a half teaspoon of salt; mix, and then add water and stir with a fork until you have a moist but not sticky dough. Knead it for a teeny bit, to even the mix. Let the dough set for about seven minutes. I used to say, "As long as it takes you to smoke a leisurely cigarette," but since I quit smoking and wish everyone else would, seven minutes is ENOUGH.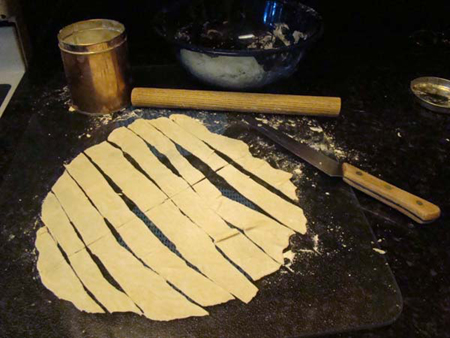 On a floured board, once the bean and ham are boiling merrily, roll out the dough thin. Oh, you'll want to cut the dough into plum-sized chunks for rolling. If the noodles are thickish, they'll be a clunky texture, which is how my husband loves them. If thin, then they practically dissolve and are nicely slurpy, which is how I love them. I make some for both of us.
Cutting the noodles with your sharpest, non-serrated knife is a samurai exercise in long strokes, making the cutting/rolling board sing with the meeting of blade and board. Nothing else sounds like the ringing of cutting your very own pasta.
The noodles go straight from the board to the pot, only being dropped carefully where the broth is boiling. A gentle stir with a spoon to clear a drop area is all the stuff needs. When you can't fit any more noodles than you want or than will circulate and cook, you turn the heat to where the mixture will bubble for about 10 minutes. Then you put a cover on the pot and take it off the burner to the back of the stove, where it will continue to cook itself for another 20 minutes. When you take it off the burner, you can pepper the top of the mix and stir it gently, if you like.
Sounds so boring, tastes so, so, so good. I don't think I've ever made "too much" of it. Accompaniments? Well, as I said, my dad liked soft buttered bread with it. Fresh red radishes make a nice counterpoint, but are like putting feathers on the Mona Lisa. No wine goes with this dish, but an icy beer can be pleasant. If you have a good batch, you won't think of beverages or appetizers or side-dishes.
Such delicious food! Yet outside my family, I have never, ever heard of anyone else making it. The closest I've seen is the Pennsylvania Dutch Bott Boi and that was an awful mix of boxed bow-tie noodles, chicken, and potatoes, with shredded carrot thrown in for color. A travesty, I say. The real thing is a mystery, a challenge, and pure delight.
Originally appeared 2002-07-20