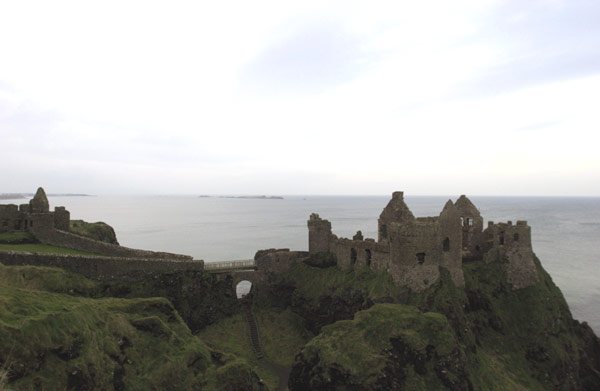 Dunluce Castle, Northern Ireland.
This bit of coastline has no shortage of stories, from ships of the Spanish Armada sinking nearby to spectacular kitchen accidents. Dunluce Castle was a beneficiary of the first event and the site of the latter.
Sorley Boy Mac Donnell, A Scot, took the castle from the English around 1565, and from there controlled much of the north of Ireland. Queen Elizabeth sent Sir John Perrot to boot him out around 1584. Perrot finally managed to win the castle for the English, then unwittingly selected a friend of Sorley Boy's to select the garrison for the castle. As soon as Perrot was gone, Sorley Boy Mac Donnell was back. Soon after the Spanich galeass Girona sank nearby, and Sorley Boy used the cannon and other goods to fix the place up.
It was later, when Randal MaDonald was in residence, that the kitchen mishap occurred. It was just before dinner time (I imagine), and fierce winds were coming off the sea. Suddenly with a crash and a roar the kitchen fell off the side of the castle and tumbled into the sea. The lady of the castle subsequently decided she wanted to live elsewhere.


**Do you have a photo or piece of art you'd like to see in "Peek of the Week?" If so, send your photo or file (unreduced) to peek@pikerpress.com. Please include what kind of camera was used, and a brief description of the picture, as well as your name and email address.