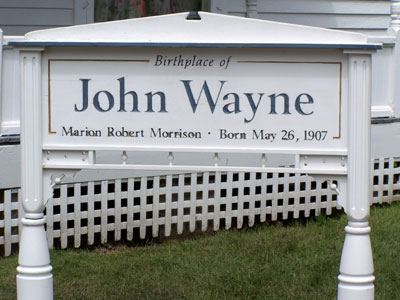 At the end of "The Searchers", we see Ethan Edwards, played by John Wayne, walk through the door and out into the world, never looking back. It's one of the classic images in Western cinema ? the loner, his work done, leaving as matter-of-factly as he came.
The people of Winterset, Iowa, know how it feels to be left, waiting, for the Duke to look back. In fairness to him, it wasn't "John Wayne" who left town in about 1910. It was three-year-old Marion Morrison, son of a local druggist, who moved away with his family, soon ending up in Glendale, California. Really, does anyone remember much of what happened when they were four years old?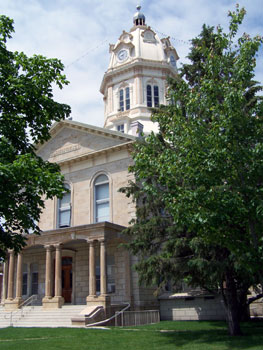 For a long time, even Winterset had trouble remembering its connection to John Wayne. It wasn't until after his death in 1979 that civic leaders purchased the house where he was born. Although the house was first used as an office, fans began showing up at the door, asking to look around, even though at that time, there was nothing to see.
In the 1990s, another movie cowboy came to Winterset. Clint Eastwood produced, directed, and starred in "The Bridges of Madison County", the movie adaptation of Robert James Waller's book set in and around Winterset. A popular contemporary movie plus the birthplace of most famous actor who ever lived gave Winterset a one-two tourism punch that has served the town ever since.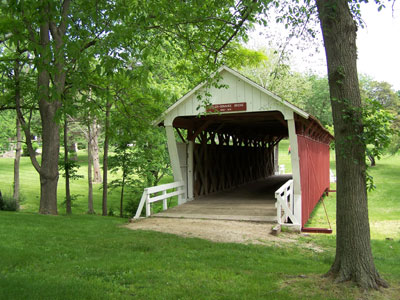 On Memorial Day weekend, though, it was all about the Duke. May 26, 2007 was the centenary of John Wayne's birth. Thousands of people attended the three-day celebration. There were parades and riding exhibitions, cowboy singers and poets, and free screenings of classic John Wayne movies at the Iowa Theater downtown. Ground was broken for a new John Wayne museum, and one of Wayne's sons unveiled a statue of his father.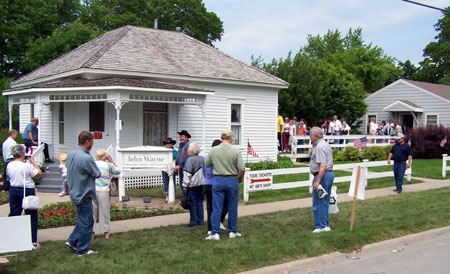 In the midst of it all was a tidy frame house, just off the highway, where cowboys and bikers, farmers and city folk, stood side by side, waiting patiently for their chance to spend a few moments in the tiny room where a legend, literally, was born.