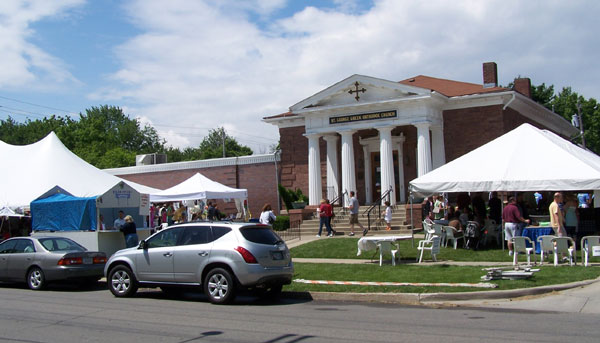 Getting off the highway and onto to streets isn't always enough. Sometimes, if you want to do something special, you have to be in the right place at the right time.
I regret to inform you that you just missed the 2007 Greek Food Fair in Des Moines, Iowa. The good news is, you have a whole year to plan for the 2008 edition, which will be held, as always, on the first weekend in June. When I say "a whole year to plan", I know what I'm talking about. I missed it in 2006, since it was held three days after I had major surgery. And even then, held together by staples and willpower, I still spent several hours trying to convince myself that I would feel better if I could just get my hands on a paper plate full of spanakopita and kourambiethes.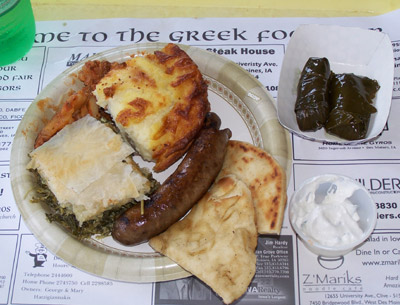 The Greek Orthodox Church of St. George hosts the event every year at their church near Drake University. There are two dining options. A plate dinner with souvlakia, Greek-style meatballs, and accompaniments is served inside the church.
Outside, there is a mezedes (a la carte) line, with my beloved spanakopita (phyllo stuffed with spinach), moussaka (described as "Greek lasagna"), loukaniko (sausage seasoned with orange), and more. There are also desserts, pastries, and a taverna with Greek beer and wine.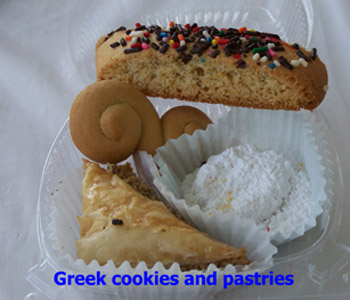 Church members begin cooking for the event weeks in advance, and it goes on rain or shine. (There was some of both this year.) The church grounds are covered with tents and tables for diners. Carry-out is available, and the church parking lot is converted into a drive-through. I can't imagine ever using the drive-through, though. Hearing the Greek music, watching children perform traditional dances, and touring the church's beautiful sanctuary are all part of the fun.