There was a restaurant in Camp Hill, Pennsylvania that served Mexican cuisine. Or at least what it called Mexican cuisine. I might have ordered enchiladas there, or tacos; I really can't remember much about the menu ... after all, it was almost thirty years ago that we last visited the place. I don't even remember the name of the restaurant, or where in Camp Hill it was.
All I can recall is the distinctive taste of the nachos we ordered there. Indeed, after tasting their nachos, we never ordered anything else. Puttering around in the kitchen not too long ago, I realized I had all the tools at hand to produce a plate of nachos that might just replicate the taste of the long-lost restaurant's recipe.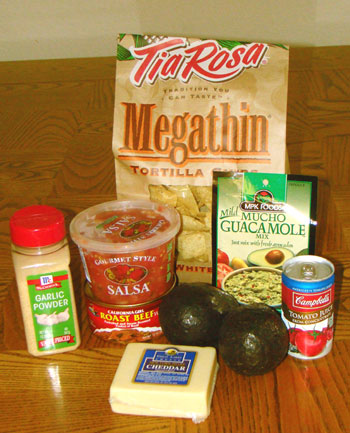 This photo shows all the goodies necessary to make the treat: Tia Rosa Megathin Tortilla Chips form the foundation, for two reasons: one, they have no sunflower oil, so I can eat them without becoming ill; and two, because the delicate crunch really lends itself to mixing with the cheddar cheese.
I use a California cheddar because it is easily available here in California, and I can get it without the orange dye some brands contain. The salsa is also local; but any salsa that actually looks like it was made from natural ingredients would work well. I use a mild salsa, but hot stuff would also work well.
Canned beef. Seems like a crime against nature, but for nachos, you really want tender meat. I could pressure cook some beef (or pork, or chicken) and that would produce a tender, juicy meat, but we're talking about a household with an urge that wants nearly immediate gratification, and pressure cooking takes a lot longer than opening a can of beef.
MPK Foods' "Mucho Guacamole Mix" is an affront to gourmets everywhere, because it's a mix that you simply add to two mashed avocados, and because it really tastes good. I have friends who would shudder at the notion that I don't make my own recipe for guacamole, so I keep the packets hidden in the cupboard and don't tell them.
Let's get started. Open the can of beef and put it in a saucepan. Add about 1/4 - 1/3 cup of tomato juice to the beef, sprinkle some garlic powder over it, and put it on the stove to simmer. Grate the cheddar cheese (about 1/2 pound) and have it ready.
Cut the two avocados in half and twist them apart; remove the seed and scoop the delectable flesh into a bowl, then mash it, then mix in the guacamole mix.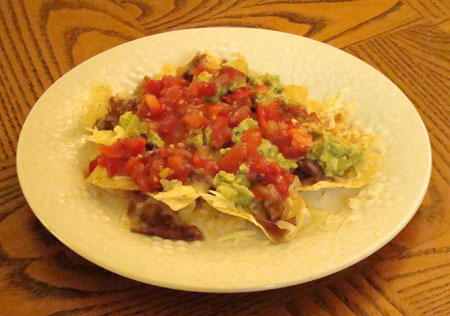 By this time, your beef mixture should have reduced the liquid to just about nothing, and you are ready to do the difficult cooking.
Pile chips on a microwaveable dish. Sprinkle beef over chips. Sprinkle cheese over chips and beef. Microwave for 30 seconds on HIGH. Immediately add guacamole, and top with salsa.
Oh, there is one other thing you'll need: napkins. I hope you find this easy snack as delightful as we do. In fact, I think I have two avocados in the fridge that should be used ...