When I went away to college, and had to rely on the dining hall to provide my meals, I discovered that there was a whole world outside my mother's kitchen.
My mother's kitchen was not in ignorance of the whole world outside it, but rather was barricaded against it; foods she had abhorred as a child were not allowed inside it. In this fortress, she had a perfect accomplice -- my father. Foods he could not stand were not allowed, either. Like two snoopy little bad kids suddenly put in charge of the fort, they stood shoulder to shoulder and denied entry to horrid things like brussels sprouts, cauliflower, broccoli, shrimp, and lamb.
Go figure.
In the dining hall of Penn State, I was introduced to a disgusting-looking dish that took the name of "spinach." Spinach being yet another of the forbidden foods in my parents' household, I was prepared to ignore its presence on my tray and disdain it, like my father before me. But I was curious, and child of the sixties as I was, "experimented."
My husband is still disgusted by my love affair with cooked spinach, as have been my parents. And many acquaintances. Nevertheless, if you're looking for a vegetarian soup that is easy, healthy, and tastes good, spinach soup could be perfect.
My son-in-law introduced me to spinach soup; he'd learned how to make it while he was stationed in Turkey. The recipe is ridiculously easy for the phenomenal taste it produces.
You need: spinach, a medium yellow onion, a couple tablespoons of olive oil, a couple cans of tomato sauce, rice, and a stove.
The main star, the spinach, (about 12 ounces, or a "family" bag of it) should be thoroughly washed, de-stemmed, and torn into bite-sized pieces.
Chop the onion into small pieces, about 3/8 inch by 1/2 inch, and cook them in the olive oil. I usually add a little water when the pieces look like they want to turn brown. Cook until transparent.
Add two 8-ounce cans of tomato sauce, turning the heat up so that taste of the sauce begins to mellow. There's a subtle color change in the sauce; it turns a little darker, and a more orangey -- without being scorched or burnt.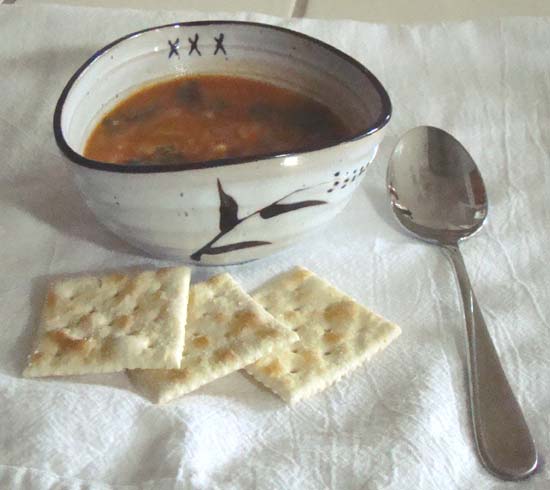 Now it's the spinach's turn. Drop by handfuls into the sizzling tomato sauce and onion, stirring until the bright green turns dark. Add more spinach. And more! Add it all!
When the spinach is truly sautéed, add water. The thickness of the soup is optional. I add water cup by cup, until I have the consistency I like. I know that over the next half hour or so, the soup will reduce somewhat, so I add an extra cup.
As the mixture returns to a boil, reduce heat, and add 1/2 cup of rice.
Let it simmer until the rice is cooked.
That's it.
Except for salt. Salt is something that really has to be added according to personal taste. I dump about a teaspoon of it into the soup, however, I like salty spinach.
I love this soup for breakfasts, personally, but then my son-in-law would also note that I am a faker weirdo, who uses olive oil instead of butter to sauté the onion, and who uses tomato sauce instead of tomato paste, and who uses lesser heat to scorch the tomato and spinach. He also adds a dollop of Greek yogurt to a bowl of this soup and accompanies it with goat cheese and crusty bread.
He is a perfectionist; I just want that delectable taste as quickly and easily as possible.
P.S. I've tried putting chunks of chicken, or chunks of beef in the soup to increase the protein content. The result was ... less than favorable. This is a vegetarian soup that triumphantly stands on its own.