"We say every year we aren't going to wait till the last minute to decorate and plan the party," Brent Field complained. "And here we are just minutes before the party finishing our costumes."
Rutherford Zucks sat on a stool while Brent slowly twisted the long brown wig into two braids. "Is everything else in readiness?"
The young man answered, "I think so, Master."
"And the invitations have BYOB on them?" Rutherford asked. "Coming from so many regions, there's bound to be differences in taste."
"Yes, Master," Brent answered. "Everyone had been instructed to bring their own blood refreshments."
The tall gaunt man stood up. "Now, how do I look?"
"Like the man himself."
Rutherford patted his sunken cheeks. "My own beard, too." He put a brown cowboy hat on his head and guitar around his neck. "Do you really think I look like Willie Nelson?"
"Exactly." Brent fluffed his naturally curly red hair.
"Just who is Carrot Top, anyway?"
"He's the comedian who does commercials and has big hair." Brent wore a green shirt with purple sleeves, brown and green plaid pants, and purple tennis shoes with green socks. "Do you want me to stand by the guest table? I'm not sure I'll know who is a member or a guest."
Rutherford strummed his guitar. "You have to be a member of Biters Anonymous to actually recognize another member. I'll give out special necklaces for protection to guests as they come in. It's a shame a few rogue vampires give us all a bad name. " He walked over to the table, picked up a bat necklace with a ruby eye, and handed it to Brent. "Whatever happens, don't take that off. And we need to keep an eye on Renard, hear he fell off the wagon a month ago and he's still shaky."
Brent stated, "I think this will be the best party ever, Master. This is my favorite holiday."
"Mine, too. And we may have a special surprise." There was a knock at the door. "Our guests are arriving. You go on down to the basement to make sure everyone knows where to put their refreshments. Please keep the door shut for the room with food. It's torture to see and smell food when one cannot enjoy its pleasures."
Soon the mountain home of Rutherford Zucks was abuzz with conversation and laughter. Brent put each vial of blood in a special container of ice with name tags. The guests included Renard dressed as a chef, accompanied by blond "Miss Vampire 2003" wearing a low-cut black dress and sparkling crown. Tony was dressed as a Green Bay Packers football player in green and gold, and his daughter Sophie was a cheerleader. His brother Guido was dressed as a brown and white spotted pony. The local teacher was resplendent as Fabio with long flowing hair and his shirt open down to the fourth button. His guest, the librarian, came as Zorro. He wore a black mask and cape proudly. Hank the biker came in his Harley Davidson black leather with his wife, Wolfie, who came in animal form. Rutherford patted her head, and she wagged her tail. The last guest to arrive was Amanda, screaming in delight to see Rutherford again. She was perfectly dressed in a long white dress, gloves, and a black wig with white lightning stripe. Her complexion was the perfect shade of green for the Bride of Frankenstein. Behind her came her friend Orange Lips as Kelly Osbourne. Her long black hair was sprayed red and pink. She wore a dog collar, black shirt with skulls, heavy black makeup, orange lipstick, red gloves and mini-skirt. She completed her outfit with knee high black boots.
Rutherford escorted the two girls to the basement and waved to Brent. Amanda yelled to him, "Surprise!"
Rutherford bowed to the crowd. "I think just about everybody is here." He looked around the room. "Ladies, gentlemen, and wolfie, I'll start tonight's entertainment with my favorite song." He closed his eyes and strummed his guitar. He sang the first line of Willie Nelson's hit, "Momma, Don't Let your Babies Grow Up to be Cowboys." He heard groans, boos, and hisses.
Someone yelled, "Don't quit your night job." Wolfie let out a long mournful howl.
Rutherford held up his hands. "Okay, I give up. For your entertainment tonight, there's a juke box with rock and country music, plus a dance floor. There's a mechanical bull to your right. Our favorite game, Pin the Fangs on Van Helsing, is back by popular demand." He pointed to a poster of a man wearing eyeglasses, vest and tweed jacket. His lips were pressed together as if in constant disapproval. A blindfold, stick pins and paper fangs were strewn on a table. In the corner above the poster was a plastic spider web and black widow spiders.
"A thousand pardons, Rutherford," Hans the biker said. "Wolfie forgets herself."
"No bother. Let her enjoy herself; this is her night, too."
Amanda spoke to Brent, "I was looking for something to drink and all I could find was tomato juice in the fridge."
Brent raised his eyebrows in alarm. "Let me take you to the refreshments. We've got pizza, chips, pop, and chocolate bats." There, Amanda and Orange Lips picked up black napkins, Pizza and diet pop.
Orange Lips said to Brent, "Let's go try the mechanical bull. It's been ages since I rode one."
"Great. I'm so glad you all made it."
Amanda said, "We wanted to surprise you. You two go on. I want to find Rutherford for a dance."
Orange Lips climbed up on the mechanical bull and laughed in delight as she was jerked about. She was thrown onto the straw on the floor. She looked at Brent. "Your turn."
Amanda tapped Rutherford on the shoulder. "Care to dance?"
He nodded. The song "Monster Mash" was playing. They joined the dancers. Amanda said, "This time I made up a dance, the Bat." She closed her eyes, lowered her head, crossed her arms on her body, and swayed from side to side. She slowly raised her head, opened her eyes, raised her arms and flapped her wings gloriously as she crossed the dance floor. She hissed, showing little white teeth. She bowed to applause, and others joined them on the dance floor doing the Bat.
Renard the chef took a big gulp of his blood refreshment. Wiping his mouth, he said to Tony the football player, "No way!"
Tony shook his head yes. "I really have developed an immunity to garlic. I live in Italy, and it's a matter of self-survival."
Renard said, "Get out of here."
Guido the pony whinnied and said, "It's true. He's the keynote speaker at next year's Biters Anonymous Conference."
Brent cast a scathing look at the mechanical bull and got up from the floor, rubbing his leg. He said to Orange Lips, "You'd better be careful." A sprig of hemlock hung from the light fixture. "You stand under there and you'll get kissed."
Renard walked over slowly beside Brent and his friend. He leaned over and whispered to her, "Has anyone ever told you that you have a beautiful neck?"
Brent said, "Say what?" He motioned for Rutherford to come over.
"May I look closer? Your veins are throbbing so, drawing me," Renard said and reached his hand to move her hair. Orange Lips slapped his hand in anger.
"Well," Renard said, "You're in a grouchy mood tonight."
Orange Lips frowned and said, "Bite me."
Renard's eyes grew large. His thin lips broke into a crooked smile. Brent turned pale and whispered to her, "Never say bite to anyone in this group."
Rutherford appeared at Renard's side and put his arm around him. "I'm here to help."
Renard blushed. "Thanks. I'm not feeling so good. It's such a night-by-night struggle."
Orange Lips stood under the hemlock. She said, "I still think this is the best Halloween party ever."
Rutherford held up his glass and announced in a loud voice, "A toast. Happy Halloween to everyone, and may all your nights be biteless."
Amanda said, "This is the best Halloween party ever."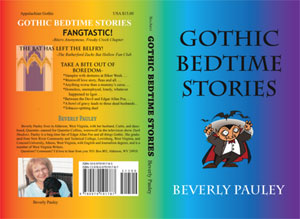 To purchase a copy of Beverly's book, Gothic Bedtime Stories, contact her at P. O. Box 803, Alderson, WV, 24910 or by email: hbpoe(at)excite.com. The cost of the book is $15.00 -- mention the Piker Press for free shipping.