"I just made gazpacho," my friend Melissa told me as I walked into her apartment on a summer day in Houston, Texas, some thirty years ago. "Want some?"
The only other time I had heard of the word "gazpacho," it was associated with a Kliban cartoon of a man having a restaurant meal with a giant fly. I was dubious about trying it, but Melissa was one of the best cooks I'd ever met. "What is it?"
"A cold summer soup. Oh, don't give me that look, you like everything that's in it." She was already opening her refrigerator and pulling out a big pitcher.
"Can I smell it first?"
She chuckled, well acquainted with my quirk of sniffing dishes before I tasted them, and held out the open pitcher. Moments later, I was spooning up my first taste of gazpacho, and wishing that my baby was old enough to share some. Immediately, I bummed an index card and wrote down the recipe for myself.
Melissa and I both moved out of Houston less than a year and a half later, she to Ohio, I to Pennsylvania. One time I tried making gazpacho for my family, and one time only. My husband is a lifelong tomato-hater, and my daughter leans towards zucchinis and mushrooms and broccoli when she thinks of vegetables. Nevertheless, my index card with Melissa's recipe has traveled with me through ten moves around the nation, my memory of the delicious taste and the epic friendship entwined.
Michele Host's recent Piker Press story, "Gazpacho" filled me with a passion to revisit those long-lost culinary delights. (Not in the same way her main character did, of course.) I dug out Melissa's recipe and assembled my ingredients, warning my husband to stay away or visit friends while I was preparing my feast.
This savory and delicious dish is perfect for summer barbecues, providing a cooling counterpoint to grilled chicken and beef. Tomato-haters, go read another article.
GAZPACHO
1 large tomato, cubed into 1/4 - 1/2 inch bits
1 smallish cucumber, cubed likewise
1/4 cup celery, cut the same way
1/4 cup white onion, finely diced
two cloves of crushed garlic, OR 1/2 tsp garlic powder and a teaspoon garlic juice (available bottled at the grocery store)
1 tsp sea salt
1/2 tsp black pepper
2 Tbsp lemon juice
1 Tbsp extra virgin olive oil
2 heaping Tbsp of your favorite salsa
2 cans of tomato juice (5.5 ounce size)
5.5 ounces beef broth (I pour it into one of the tomato juice cans to measure it)
Mix gently, then put the gazpacho (covered) into the refrigerator for FOUR hours.
OPTIONAL INGREDIENTS:
A green pepper, seeded and chopped
More salsa ( I buy a brand that has a lot of liquid around the ingredients and dip out probably another three tablespoons of the juice in addition to the salsa)
A couple shakes of Louisiana Hot Sauce
celery seed
finely diced jalapeño or Habañero peppers, seeded, as much as you can enjoy
1/2 avocado, diced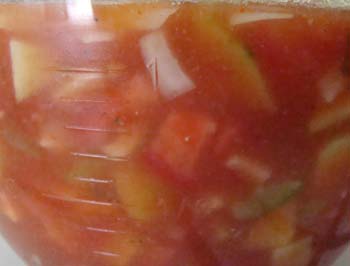 Some recipes I have seen call for the ingredients to be puréed in a blender; I prefer the chunkiness of the cold soup, myself. And as in all recipes, add more of what you love, and less of what you loathe. For one batch I made recently, I used a food processor to chop the vegetables. The result was less than stellar according to my tastes. This can be a texturally-biased food as well as flavor-biased.
The tomato juice I've been using is actually cheaper per ounce in the smaller size -- that's why I use that size can. And the beef broth ... I've been using Wolfgang Puck Organic Beef Broth because it contains no MSG. One extraordinary batch of gazpacho this summer, in addition to the above ingredients, made use of the juice from a roasted beef tri-tip which had been seasoned with garlic powder, sea salt, and cumin.
A serving of this soup would fill a teacup (8 ounces?), and so this recipe would make about 4 - 6 servings.
Okay, tomato-haters, you can open your eyes now. I'm done.
And thanks, Melissa. It's still heavenly.