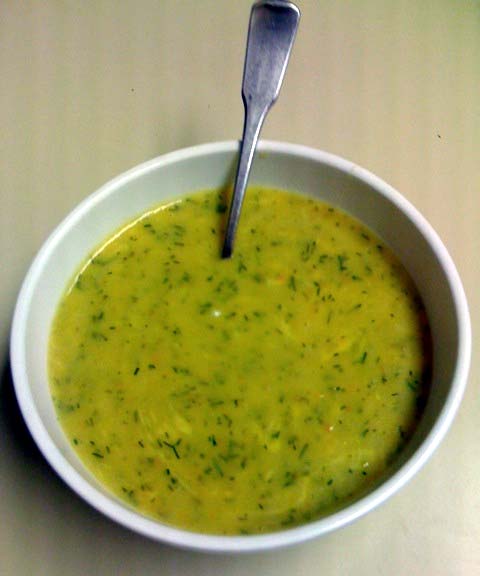 I will go on record and say that like most men I prefer a meal that includes a good size piece of meat, preferably beef, but any kind will do really, even a nicely done piece of fish, especially if it's salmon. It was for this reason that when The Chef first mentioned some years ago that she was making soup for dinner that I inwardly groaned. Soup isn't a main course, at best it's an interesting prelude to a nice rib eye or filet. Ladies have soup for their lunch with cucumber sandwiches. Dinner? Men? No. I have learned not to bite the hand that feeds me, though, and so I distinctly remember smiling, nodding my head appreciatively and asking with what I hope passed for excitement, "Nice! What kind?"
"Potato Cheese," came the reply with a smile. I smiled in return wondering if we were going to have something substantial with it or if soup was the main course. I didn't trust myself to ask that question without enough insincerity creeping in to be noticeable, though, so I remained silent and forced myself to wait.
The soup, as it turned out, was the main course. It was served with a crusty baguette slathered with sweet cream butter. It was quite delicious and now either one of us will make up a batch when the mood strikes us, or the weather outside is chill enough to make a good hearty bowl of soup just the thing. Yes, it's that good. If you were coming over I would not hesitate to build a meal for you around this dish. If you make a batch it's enough for a meal for six, or if there are just the two of you, you will have leftovers for a night or two. Here is how you make it.
Potato-Cheese Soup
4 tablespoons sweet butter
2 cups finely chopped yellow onions
2 cups peeled and chopped carrots
6 parsley sprigs
5 cups Chicken Stock
2 large potatoes, about 1.5 lbs, peeled and cubed (3 to 4 cups)
1 cup chopped fresh dill
Salt and freshly ground black pepper, to taste
2 to 3 cups grated good quality Cheddar cheese
Melt the butter in a soup pot. Add onions and carrots and cook over low heat, covered, until vegetables are tender and lightly colored, about 25 minutes.
Add parsley, stock and potatoes, and bring to a boil. Reduce heat, cover, and simmer until potatoes are very tender, about 30 minutes.
Add dill, remove soup from the heat, and let it stand, covered, for 5 minutes
Pour soup through a strainer and transfer the solids to the bowl of a food processor fitted with a steel blade. Add 1 cup of the cooking stock and process until smooth.
Return pureed soup to the pot and add additional cooking liquid, about 3 to 4 cups, until the soup reaches the desired consistency.
Set over low heat, add salt and pepper to taste, and gradually stir in the grated cheese. When all the cheese is incorporated and the soup is hot (not boiling), serve immediately.