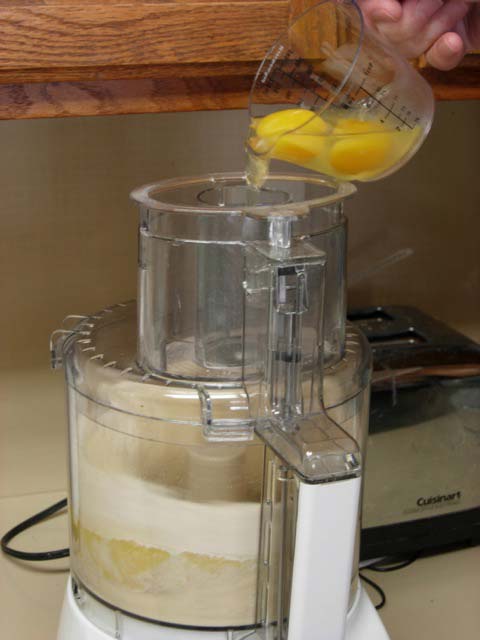 One year early in our marriage, I was searching around for a present to give the Chef for Christmas. I remember I was at the Trolley Square mall and was in one of those trendy cooking stores. I've gotten her a lot of lame presents, but that year I got her a pasta roller and we have had it ever since, more than twenty years. It started a thing in our house and while we will of course eat the stuff that comes in a box, if we feel like pasta I'll usually just make a batch of the real thing. With a food processor it's really quite easy. Here's how it's done.
Measure out 180 grams of white flour and 140 grams of semolina. Quit whining and just go buy a good scale ok!? Put it in the food processor with a half teaspoon salt. Add 1 Tbs of olive oil and 1Tbs of water. Turn it on and add three eggs one at a time with the machine running and let it go until it forms into a ball. Turn the machine off and take the dough out. Turn the machine on and drop the pasta in a piece at a time in walnut size pieces. Let it run for 1 full minute (that's sixty seconds) after you drop the last piece in. There's your dough. Take it out and put it in a plastic sandwich bag and let it rest for a bit, it's tired, but no more than an hour.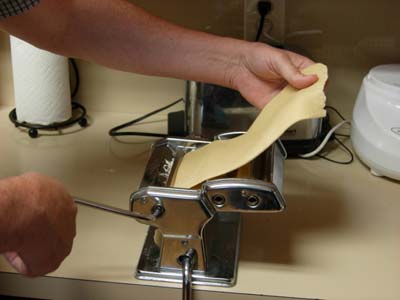 Roll it. You know how to roll pasta right? Go buy yourself a roller, it'll be fun, and if you don't know how, let me know, I've been doing it for years. I hang mine to dry on an old shower rod wrapped in saran wrap, but a broom handle does equally as well.
It took me years to figure out how to make a decent Alfredo sauce and I'm going to share my secret with you right here. You may have had better than this, but I dare say not often.
Melt a half stick of butter in a sauce pan. Add a teaspoon of pepper (more if you're brave) and two garlic cloves all minced up. Let it melt and then add a cup of heavy cream. No, don't substitute milk, it does not work! You MUST use heavy cream! (If you cringe at the thought of the calories then go eat a salad with a bit of basalmic.) Let it warm, stirring occasionally just so it doesn't stick or anything. You don't need it to boil, just get good and warm while that pasta you rolled is cooking. Since it's fresh it cooks really quick too, four minutes tops.
Here's the secret, so pay attention. Don't add the cheese to the sauce. Weird right? Stay with me it'll all make sense in a minute.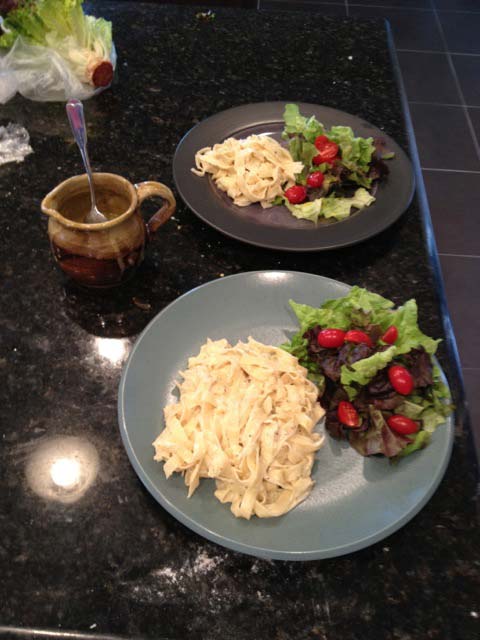 Drain the fettucini and return to the pot. Add the sauce we just did, and mix it up. Now take the cup and a half of Asiago grated cheese you have. Asiago has a robust flavor and really makes this work. If you must, you can also use Parmesan, or Romano, but under no circumstances can you use anything other than freshly grated cheese. Nothing that comes out of a green cardboard tube can be used! Add the cheese to the fettuccine sauce mixture. The cheese will stick to the noodles and melt right into the sauce. It's easy and it works. If you add the cheese to the sauce first, there is an excellent chance you'll end up with a lump of cheese in the bottom of the pan. This way is almost foolproof. Dump it all into a serving dish and sprinkle some fresh chopped parsley on top.
If you're brave, add some cayenne to the sauce while it's heating for a bit of extra kick. Cook up some chicken and toss it in too, and you move from a side dish to a main dish. Don't forget to invite me over too, because I love this stuff.