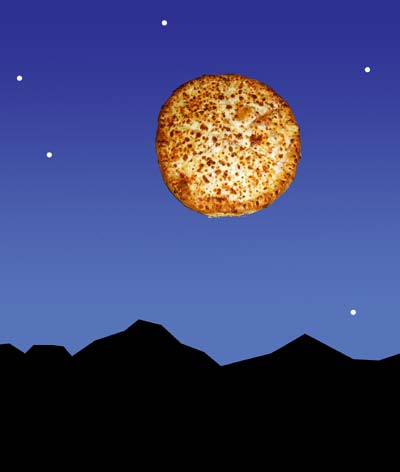 The sky was dark blue with a perigee full moon, filling the sky as Tony drove his wife and mom from church to the Hofbrau for their usual Saturday night dinner. He pulled into the parking lot and stopped at the door. "You guys go ahead. I'm gonna get pizza at Mama John's. I should be back by 6:30 at the latest."
His mom delayed his exit. "Can you get me a medium pizza so I have something for tomorrow?"
"OK mom," and he left for Mama John's around the corner. He could make the trip to Toto's, his favorite pizza, but that was five miles up the road, at least twenty minutes extra and he had to get back to pick up his wife and mom. It was already six o'clock and there was a show he wanted to watch that night.
He remembered the Mama John's carryout special back at his town. Mama John's has the eight-dollar carryout special. I'll get two for sixteen dollars.
But when he entered the shop, he saw a different set of pricing. Twelve dollars for a large? Then he saw the flyer with the specials. Hmm. Large five-topping pizza for $10.50? He handed the flyer to the boy with the hat on sideways. "I just want a large cheese; can't I get this price?"
"That's just an online price. It's twelve dollars for a large."
Tony grumbled to himself, sat down with the flyer and pulled out his iPhone. All right. I'll go to mamajohns.com and place the order. He discovered it wasn't that easy. Online pizza ordering systems want your life story before you can order. Argh. Name, address, zip code. Ah, a pop up 'would you like to use your current location.' Yes. That will save a minute or two. After that, he was prompted with the specials. He didn't see the special that was listed on the flyer.
Tony walked up to the counter and showed his iPhone to the boy with the sideways cap. "Hey, there's no five-topping large pizza on here for $10.50." The boy looked at Tony's phone.
"Oh, you need to use the Mama John's app, not the website."
Tony gave the boy a frustrated look. Argh. He went back to his seat and searched for the app. Ah, here it is. Free. Install. Pop up. Enter your Apple ID password. Tony entered his Apple password and saw an error message. Tony had been frequently frustrated by Apple's insisting on a password when he tried to install a free app, download music or even for random, seemingly mysterious reasons. Damn. What was that password? He tried another. Same error message. Damn. He tried another password. No luck. Tony was starting to lose it. The phone asked him if he would like to change his password. Yes. The phone prompted him again. Would you like to change it by email or by answering your secret questions? Tony knew the last time he tried to answer the secret question, he got it wrong and was in for more frustration. I'll change it by email. He made his choice. Ping. His email prompted him to click on the link. When he did, the page prompted him to put in a new password. He entered a new password. Sorry, that password has been used in the last year. He entered a different password. Sorry, your password has to include at least one capital letter. He entered a different password. Sorry, the password and confirmation do not match. Please try again. By the time he finished all this, he had lost the app and had to start over.
Tony's phone made that pinging alert sound, a text from his wife. We're ready to be picked up.
Tony typed back. It's going to be a while.
His wife texted back. Did you go to Toto's?
Argh. Tony texted again. Don't ask. He returned to his mission.
When Tony finally got back to the app, he noticed that he had to add his name and address again. Ah, the pop up 'would you like to use your current location.' Yes. Tony searched for the special large pizza with five toppings for $10.50. Found it. Finally. I might as well get mom a large too for this price. What type of crust? I'll get regular crust for mine and thin crust for mom. What toppings for the first pizza? OK. Onions, peppers, mushrooms. That's all I want. Now for mom. Thin crust with olives, peppers, onions, mushrooms and extra cheese. OK, I'm done.
But the phone just wasn't cooperating. It asked him to put in his credit card information. Tony pulled out his card. Mastercard, not Visa. Card number. Security code. Am I done now?
Your card does not match your address. He had let the phone pick the location, which was his mom's town, not where he lived. Argh. Tony entered his correct address. Another error message. What is the name on the card? Tony made the correction. The phone, now clearly in charge of Tony's sanity burst out another question. Would you like to add a 2-liter Pepsi for only a dollar? Tony angrily entered 'No' and finished the transaction. But the phone app wouldn't let Tony get away. Would you like to take a one-minute survey after ordering? Tony thought he would lose his mind. He pressed the button for 'No' and waited. Thank you for your order. Mama John's appreciates your business. A confirmation receipt is ready. Would you like it emailed to you? Tony pressed the 'Yes' button. Thank you. Please enter your email address again.
Tony looked up at the ceiling. Why me, Lord? He entered the email address, and waited a few seconds for the confirmation. Ping. He opened the email. Mama John's welcomes you to our club. You'll be getting special offers and alerts by phone and email. Your order has been placed. Please allow 25 minutes for your order to be ready. Tony looked up at the clock. 7 o'clock.
Another text from his wife. Are you OK?
Tony responded. Yes, I'll be there by 7:30.
His wife wanted to know why. What could be taking so long?
Tony realized he had gone through this nightmare in order to save $1.50 and decided he couldn't tell his wife that. Just stay there. I'll call when I get back there. He ended the text chat and sat down, closing his eyes and wondering what he had done to deserve such angst. Twenty minutes went by. Tony got up to use the bathroom. On his way, he noticed a woman getting up to pick up her order.
"That's one large and one medium pizza, Miss Jones. That comes to $17.42."
That's just what I wanted! He couldn't stand the thought of finding out why and proceeded to the bathroom. A few minutes later, he returned to the counter to see if his pizzas were ready.
The boy with the Mama John's hat on sideways looked up. "Are you in the system?" Tony never heard this expression at a pizza shop.
"I hope so" realizing it had been over twenty minutes since completing his order. The boy looked at his computer screen, then smiled at Tony.
"It says your order is ready" and he turned to pull the two pizzas from the warming area and handed them to Tony, all paid for.
Tony got in the car and headed back to the Hofbrau, the two pizzas on the back seat. He was stopped at a red light and called his wife to come outside and wait. When the light turned green, he pressed the accelerator. A motorcycle raced through the red light in front of him and he jammed on his brakes, missing the motorcycle by inches.
After his heart rate returned to normal, he pulled into the parking lot for the Hofbrau. He looked behind him to see one of the pizzas splattered out over the floor and the other pizza sitting harmlessly on top with the box lid still closed. That was his mom's pizza.
Like I said, it was a really big full moon.