Jeffrey opened his mail and found the jury duty notice. "Damn, I have jury duty," he said to his wife Susan.
"That's okay, honey, when is it?"
"July 14th, the day we're supposed to leave on vacation. Don't they realize that people take vacations?"
"Can you get out of it?"
"I've been putting them off for years. I think that I've used every excuse there is. I'll just show up and hope it's a one-day commitment. We can leave the following day for San Diego."
"I'll change the hotel reservation for the next day."
* * *
Jeffrey had been thinking about the excuses he could use when he got to the courthouse. He could tell them about the vacation, about how he had an important meeting in San Diego, about how his house was robbed last year and that he thinks everyone is guilty. None of these ideas seemed perfect and he knew he could only use one excuse when they asked him why he couldn't serve.
The room he sat in was dark, smelled like a bus station and was filled with people he wouldn't want to meet. Jury of his peers, huh? This guy must have been a loser, he thought. There were teenage moms with tattoos and crying babies, overweight people munching on donuts and bagels, a businesswoman drinking coffee from her Starbucks cup while she tapped on her iPhone, and a middle aged man that looked like the homeless guy down at the Salvation Army center wearing an Oakland A's t-shirt. "God, I'm glad I'm not on trial," he said to the pretty Asian woman with the iPhone.
She glanced up from her tapping. "Pardon me?"
"I said I'm glad I'm not on trial with the looks of this jury pool."
"Yes," said the woman. "This group would vote guilty no matter what the evidence was. My name is Amy," and she extended her hand and smiled.
"Jeffrey. Nice to meet you."
Amy was dressed in a navy blue business suit, with light makeup, dark shoulder length hair and a red velvet scrunchy to hold her pony tail, the only lighthearted aspect of her attire. She was in her late 20s and obviously well-educated. Jeffrey, now in his 40s, was immediately attracted to her. His recurring fantasy of having an affair after fifteen years of marriage replayed in his mind. He imagined occasional meetings with this lovely on Wednesday afternoons when they might both get away. He thought of her in red lingerie, her hair loose, and an aggressive manner of lovemaking, some of the actions his wife had long lost interest in. Not that he would ever leave Susan; in every other way, they were totally compatible, just not in the bedroom.
"What do you do, Jeffrey?"
"I'm a chef at Le Bistro de Paris downtown."
Amy leaned forward and put her hand on Jeffrey's knee. "Really. I love that place. I was just there last week with friends."
Jeffrey finally got around to noticing that Amy had no rings on, after he had surveyed her face and other features. "So nice to hear it. What did you have?"
"Canard à l'orange. Il était exquise, pas trop sucré, juste mature," Amy said in perfect French.
Jeffrey replied in kind. "Oui, le canard doit mûrir avant de pouvoir s'il vous plaît le palais." He felt an excitement stirring and tried to maintain a cool exterior.
"J'ai léché jusqu'à toute la sauce, ne voulant pas gaspiller," she said, still touching his knee. Jeffrey knew now that she was as interested in him as he was with her. He pulled out his card and handed it to her.
"Let me know the next time you are coming and I'll prepare something special for you."
Amy responded in kind with her own card. "And you can call me if you would like to teach me how to cook French," as she wrote her cell phone number on the back.
Jeffrey touched Amy's shoulder, stroking it lightly. "I'd like that. What are you doing Wednesday afternoon, my day off?" forgetting that he was supposed to go on vacation that week.
"Wednesday is perfect. Email me with the ingredients you'll need and I'll send you my address and directions." Their flirting was interrupted by the bailiff.
"Everyone with court number seven please follow me to the next room."
Jeffrey and Amy compared their summons and smiled seeing that they would be able to continue their conversation. They walked together behind the bailiff and sat down.
"Where did you learn French? You speak it very well," he said.
"At Cal, I was a French Literature major. I even spent a year in Marseille. It was amazing."
Jeffrey imagined this beauty walking the cafes and art galleries, immersing her in the culture, perhaps stopping at those lingerie shops for a European look. "Did you ever go to La Cote de Boeuff on Cours Honore d'Estienne?"
"Yes I did. How do you know about it?"
"I trained there for a year. That's where I learned how to make the duck." Jeffrey was making connections and this lovely was following him.
"That's why I recognized the sauce. It was the same recipe. Could you show me how to make that dish? Please?"
"Of course. But let me bring the ingredients. It's a bit expensive," hoping to solidify the date.
"All right then, but I'll buy the wine. What goes well with that?"
"Chardonnay, Pinot Blanc or a dryish sparkler such as French or California Brut. Schramsberg Blanc de Blanc would be perfect."
Amy pulled out her iPhone. "Would you text me that name please? Here's the number." She positioned her phone on Jeffrey's thigh so he could see it. Jeffrey worried about his increasing excitement just a few inches above. He tapped out the name and texted it to her.
"There you go. Would you please excuse me a second? I'd better go before they call us into the courtroom."
"Certainly, I want to touch up my face too. Meet you back here in a few minutes."
Jeffrey went into the bathroom, saw that it was empty and entered the far stall. Ping. It was a text message from Amy with a picture of her lying on a bed with a message. "Can't wait for you to teach me how to cook lover."
That pushed him over the edge. He watched the picture and relieved himself, and then saved the picture to a secret folder he had on his phone, then after composing himself replied to the text. "It will be honor to serve you." He walked back into the jury waiting room and sat closer to Amy this time.
They continued their small talk when the attorneys called up people to question. Amy was first. After a few standard questions to determine her suitability as a juror, he asked, "This is a burglary case. It may last for weeks. Can you commit that kind of time to the trial?" Amy glanced over at Jeffrey who nodded, then answered, "Yes, of course." They both realized this would give them more time together.
Jeffrey was called next and answered in kind. They were both accepted as jurors and released for the day. "The trial starts tomorrow. Be here by 8:00am," said the bailiff.
Jeffrey and Amy had coffee at a local Starbucks, and then parted. "Sorry, lover, I wish I could drag you home right now, but I have to get to work to finish something. See you tomorrow." She leaned up to him and gave him a long kiss.
Jeffrey responded in kind, not worrying about who might be watching. He returned home later in the day.
"Well. How did it go dear?" said Susan.
"I tried to get out of it darling, but I'm stuck on a trial that may last a few weeks. Can we postpone our vacation?"
Susan looked disappointed, but said, "That's all right. I'll change the reservations for August."
The next morning Jeffrey and Amy met for coffee early at the same Starbucks. Amy slid her foot under Jeffrey's leg while he held her hand. "Three weeks, Jeffrey. We can meet here every morning," said Amy.
"A perfect way to start the day. I noticed you're an assistant at the museum. Tell me about that."
"Oh, I love my job. I help coordinate shows and loans of the French art works for events. You should come to one sometime. They are quite lovely."
"I'd like that, if I can get away." He ran a little circle with his finger inside her palm.
* * *
They entered the jury room and sat with notepaper listening to the attorneys make their opening statements. Jeffrey was hardly paying attention, preferring to let his imagination wander to his date in two days. He saw that Amy was sketching a figure of herself undressing Jeffrey in the kitchen. She glanced over to see that Jeffrey noticed and smiled furtively.
"The defendant and his crew have been accused of over fifteen burglaries in the neighborhood. When they were caught, their fingerprints linked the crimes together. Here are some of the items they stole." The assistant attorney laid out jewelry, purses, laptop computers and digital televisions.
Suddenly, Jeffrey recognized some of the pieces. They were taken from his house. He realized he couldn't divulge this in court. They would excuse him from the trial. He could only hope they were convicted anyway.
After an hour, the bailiff delivered a note to the trial judge. "Ladies and gentlemen of the jury. I'm sorry to say that I have a more pressing matter to attend to. Court is dismissed until 9:00 o'clock tomorrow morning. Thank you for your understanding."
Amy squeezed Jeffrey's hand and whispered in his ear. "Looks like we can start that cooking lesson early."
They walked hand in hand into the upscale market around the corner, Jeffrey selecting the ingredients while Amy queried the wine manager. "Look, Jeffrey, I found it," she said with delight, then walked alongside the cart with her hand on his as he continued buying the grocery list.
"How about some French bread?" he said.
"Perfect, can I choose it?"
"Of course, dear. Whatever the lady wishes." Jeffrey couldn't believe how perfectly this was turning out. Now if only his actual lovemaking could match the one he had imagined.
They left his car at the courthouse and took her BMW to her condo by the river. Amy continued to rev up the conversation and passion on the short drive. "I feel so lucky to have met you. I always wanted to meet a chef." She stroked the inside of his leg with her hand.
Realizing that she had never brought up the matter of his marriage, he wondered if he should bring it up. What if she cancels the whole thing? Maybe I should just not talk about it. But I'd love to know how long this can last.
She looked at him seriously. "By the way. I'd like to keep this our secret if that's OK. I'd love to be your mistress, but I don't want to get you in trouble with the wife." Her smile was all the reassurance he needed.
"That would be just perfect. I was looking for the same arrangement."
For the next five hours, the couple made gourmet food and exotic love. Her bedroom was tastefully adorned with French prints and furniture with a balcony overlooking the river; private and romantic. The only way this could have been better was if they could meet at night. By four o'clock, Jeffrey knew he had to return home. They kissed passionately one more time.
"How was the trial dear?" said Susan.
"Boring. The judge said to plan on three weeks before the ending. I'm sorry our vacation plans got derailed."
"No worries, love. I changed all the reservations and made my own contingencies. Would it be all right if I spent the time with my sister in Los Angeles? Then you can fly down when you're finished."
Jeffrey almost pinched himself with the news. He tried to show the correct proportion of response. "Oh, that sounds wonderful, dear. I know how much you guys love to spend time together. Maybe you'll get all your talking done before I arrive."
Susan gave him a hug. "Great, I'll call her right now."
After she left the room, Jeffrey texted Amy with the news. Now they didn't have to rely on the scheduling of meeting and hiding from his wife. They could spend nights together at her condo without worrying about having to leave for home.
Amy saw the news and replied with another one of her text messages, this time with a picture of her in a bikini, French of course. Jeffrey headed to the bathroom to view it in private and well, you know.
* * *
The couple had the fiery passionate affair both had dreamed of. Three weeks of spending time together, cooking and making love each night at her place. He wished he could take her out but figured that was too risky. Someone he knew might see them. But Amy understood and didn't mind. It was her dream romance as well and she wasn't going to jeopardize it.
They continued to see each other for the next five years, when Amy was asked to go on a trip for the museum to France to pick up some artwork. She would be gone for three months. The hiatus didn't diminish the passion they had for each other. She returned to continue their affair in September and they were able to live happily, if secretly for the next five years.
"I love you so much Amy" Jeffrey confessed.
"Me too, lover. Don't ever leave me. You know, our life has been perfect except for one thing."
"What's that dear?"
"That three weeks we wasted in court and the defendant getting off because they weren't any witnesses to claim the stolen property."
"Yes, a shame." Jeffrey replied.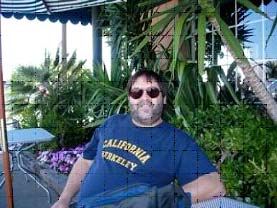 Jerry Guarino's short stories have been published by dozens of magazines in the United States, Canada, Australia and Great Britain. His latest book, "Trilogies: 18 sets of short fiction," is available on Amazon.com and as a Kindle eBook. Please visit his website at Cafe Stories.