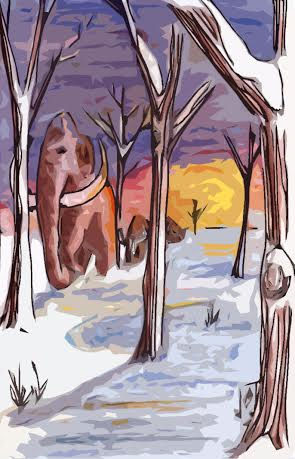 Sunlight settles on frost that lingers
beneath new snow, now shoveled
and blown aside into miniature hills
towering above driveways and parking
lots where cars gleam as if they were
carved from colored ice and left
to delight our winter-anguished eyes.
For months we have climbed another
hill, tendons aching with these latest
steps. Stretching helps a bit, so we
pause even in the painful snap of wind,
blown snow biting at our eyes, faces lost
in ski-masks and hoods, the temperature
dropping fast. Last night the mammoths
came again trudging through our dreams
and ending sleep long before the old
anemic sun could drag itself to bleed
wearily through smears of bitter cloud.





* * *


Steve Klepetar's work has received several nominations for the Pushcart Prize and Best of the Net. His latest collection is My Son Writes a Report on the Warsaw Ghetto (Flutter Press).