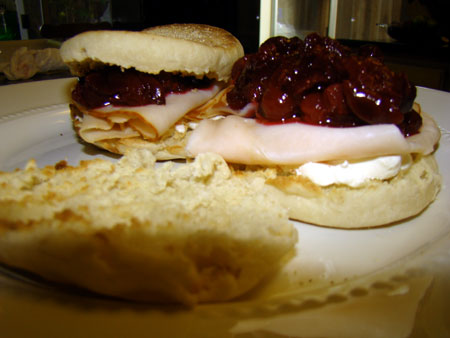 So, how many of you had turkey for Christmas? We did. We're turkey people. We roast turkeys for Thanksgiving and Christmas and at least three or four times during the rest of the year. As a kid, I almost always ordered hot turkey sandwiches when my family went out for dinner to a restaurant, and I considered it an enormous treat. My mother didn't care for turkey, but she would make it (reluctantly) once a year on Thanksgiving, except one year when she simply refused, and we had lasagna for Thanksgiving dinner. Lasagna. Yes, I know that Christopher Columbus was Italian, but he worked for the turkey-loving Spaniards. Still, no matter how much you love turkey, the fact of the matter is that turkeys are big birds, and the upshot of that is that there's usually lots of turkey left over. What do you do with leftover turkey?
Here's a tasty little sandwich that is really easy and a great way to utilize your leftovers. Toast up an English muffin and spread a liberal amount of cream cheese on one half. Next, load on some turkey, and top with a tablespoon or two of fresh, chilled cranberry sauce. Cap off with the other half of the English muffin and serve.
My daughter brought this idea home with her when she had something like this sandwich from one of the shops downtown. The downtown sandwich used a croissant instead of a muffin, three pieces of thin sliced deli turkey, and canned cranberry sauce. It was very good, but I like the toasted muffin better, and when you use real turkey and fresh cranberry sauce, this is a destination all unto itself.
By the way, when you do your cranberry sauce, keep it clean and neat -- one cup of sugar, one cup of water, four cups (12 oz.) of fresh or frozen cranberries. Try to resist adding marshmallows or nuts or orange juice and the like. The sweet tartness of the cranberries really plays well with the tang of the cream cheese.