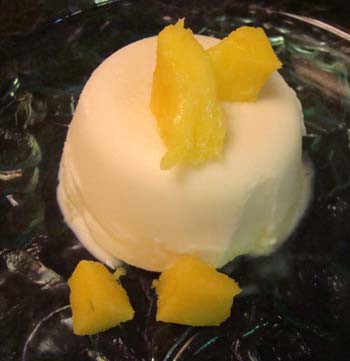 So, it's 2 o'clock in the morning and you suddenly realize that you absolutely have to have to ice cream for breakfast, but horrors, you have no ice cream in the house. What do you do?
You could, of course, get dressed and run out to the mini-mart and get really bad ice cream and lose sleep, or you could not get dressed and just go to Walmart, get better ice cream, but end up with your picture in one of those blogs that post pictures of the really strange people who seem to frequent Walmart, or...
If you are like me and you are a Food Network junkie, you will have recently watched a Chopped Canada episode in which one of the contestants whipped up something he called a kulfi, and it was noted that kulfi is an Indian ice cream, and some days later, after some extensive internet searching that produced dozens and dozens of recipes, you tried your first batch of kulfi, and it wasn't so good, but it had some real potential, and so you did a little more research, tweaked this and that, and boom, you now have a recipe that produces some really fine kulfi, which remarkably is a whole lot like ice cream and can be ready by breakfast.
And, here's the kicker: no cooking and no churning are required! You can practically do this in your sleep, which is helpful since it is now about 2:05 a.m, and you are still in your pajamas.
So here's what you need:
1 cup chopped fruit
1 1/2 cups whole milk
1/2 can evaporated milk (see note below)
1/2 cup sugar
1/2 cup cream
1. Put fruit, milk, evaporated milk and sugar in a food processor. Buzz it till it is nicely blended and smooth.
2. Add cream and buzz just enough to incorporate completely into mixture.
3. Pour the mixture into little dessert sized bowls (6 to 9 oz. ramekins), or into ice cream molds and pop them into the freezer for at least three hours, or better yet, over night.
This tastes like really good ice cream. I mean it tastes like really, really good ice cream -- the rich creamy dairy taste is there, but there is a brightness to it that comes from having less sugar and fewer flavorings added (no vanilla, for instance), and this allows the fruit to come forward and really stand out. Unlike its churned cousin, it will freeze solid, so if it has been sitting in the freezer for like eight hours, you're going to want to take it our far enough ahead of serving to allow it soften up a bit. Then again, you can do what my granddaughter does and simply throw it in the microwave for 15-20 seconds before eating.
So:
2:00 a.m. -- ice cream munchies hit
2:05 a.m. -- mise-en-place (setting out) of all five ingredients complete
2:10 a.m. -- blender buzzing along
2:15 a.m. -- kulfi mix poured into ramekins and set in freezer
2:20 a.m. -- sleep for four hours
6:30 a.m. -- showered, dressed, coffee being made
6:35 a.m. -- frozen confection bliss for breakfast
Have a great day.



Note: A couple of other things: most fruits will do -- any of the berries, mangos, peaches etc. I have used strawberries, and I have used mango. Both were good.
To be authentic Indian, all the recipes I saw added cardamom. Never had it, so don't know what that would be like. Online descriptions say it has a taste similar to mint. If so, I'd probably pass.
AND -- lots of recipes call for sweetened condensed milk instead of evaporated milk. If you want to do that, cool, but leave out the sugar. There is enough sugar in the sweetened milk to choke a cow.
BTW, 1/2 cup sugar is a good place to start. You may want less, I doubt you'll want more. And it is okay to substitute some non-sugar sweetener, like honey, or even no-cal sweetener like Stevia. This is another big advantage to this DIY ice cream -- you can sweeten to taste.