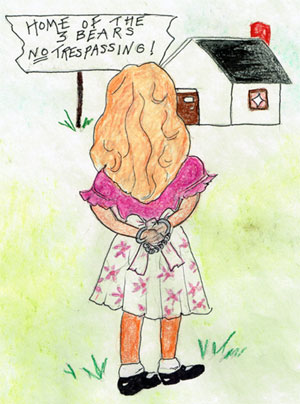 Dear Diary,
I tried to tell Mom. But you're the only one who listens to me. Even the officers who came to our house to interview me about the break-in already had made up their minds about the incident. Mom burst into tears long before I got to the part about eating Baby Bear's porridge.
"Breaking and entering," she wailed. "No one in our family has ever been fingerprinted."
"Except your brother Phil when he lifted seventeen hams from the University refrigerator as a fraternity prank," Dad said.
Mom glared at him, and then went right on giving me a hard time. "The court was lenient. You will be nineteen before I let you out of your room again, young lady."
I was almost glad to close the door and open this book.
Really. I'm not bad. I'm precocious. That's a big word Dad uses because he's a university professor. It means I'm comfortable practically anywhere. Mostly places that embarrass Mom half to death. Dad says I'm smart for ten, but Mom says I'm too smart for my britches, which doesn't make sense since underwear doesn't win intelligence awards. I tried to talk to Dad about it. All he said was to steer clear of Mom when she has that glazed-over look.
But, as far as the three bears are concerned, the cottage door was slightly open. Open! All I meant to do was close it for them after I saw them leave. All the little critters of the forest could barge in: snakes, foxes, wasps, spiders. I mean, look at what a spider did to Little Miss Muffet down the street. Then this wonderful smell came at me and I had to find out what it was.
Then yesterday at breakfast Mom brought up the subject of my house arrest. Again. I tried to calm her. "I was trying to save the bears from harm. At first. But the smell of that sweetened porridge drew me inside as fast as fire to a struck match."
That's when Mom really lost it, and went on and on about how I should have eaten my onion, parsnip and spinach omelet that morning, the one she had made so carefully from vegetables from the garden she tended all by herself. No help from anyone in this house.
I glared at my plate of bland squash and tofu. "I'd rather eat live spiders."
Dad rolled his eyes. So I knew I had to respond quickly before Mom exploded.
"You don't have to go to any trouble. I'll have a bowl of chocolate and marshmallow puff cereal."
Dad got up and grabbed his briefcase. "I need to go to the University now. And by the way, I'm taking a sabbatical. At the South Pole. To study single-cell life forms."
"But Dear," Mom whimpered.
"Before I go, let me grab the newspaper article about Goldy. Maybe a box of that chocolate cereal."
It's okay, Dear Diary. Dad came back. He said he could never leave me. But funny, he didn't say one word about Mom.