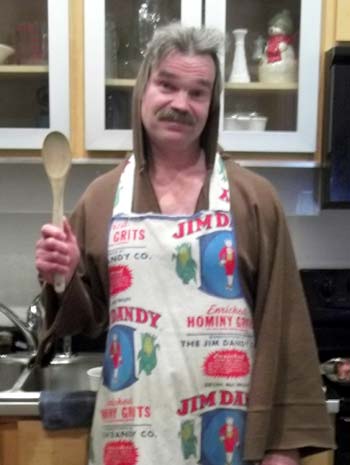 ZUCCHINI BREAD RECIPE
From the short fiction kitchen of Michael Price
Those of you who have become familiar with my writings over the course of the past four years may not be terribly flabbergasted when I tell you this recipe is a little odd. Yes, you need fresh grated zucchini ... but then you have to freeze it, in 1-quart bags, and thaw the stuff out before you start mixing. I learned this technique out of necessity because we have such a large yield of zucchini from our garden every year that we end up freezing dozens of bags to use throughout the rest of the year; we actually had to purchase a new freezer to accommodate. I'm not even sure anymore how this recipe would work using fresh stuff only (except that you'd have to use less zucchini) but I do know this particular recipe makes delicious bread. I've made more than 800 mini-loaves over the past five years; everybody loves the stuff, asks for it all the time. It's very popular at small get-togethers and makes an excellent holiday gift throw-in.
***Here's what you will need, among other things:
Two 1-quart plastic bags
6 cups zucchini -- about 4-5 medium sized -- grated (and/or yellow squash -- doesn't matter much, except know that yellow squash tends to be bit dryer)
6 or 7 mini-loaf pans (the itty bitty ones, 6 inch by three inch) -- the cheapie aluminum pans work just fine; I just paid $.88 for 5 of them at Walmart, they just don't last as long (3-4 batches each)
4 eggs
2 cups sugar
1.5 cups vegetable oil
2 teaspoons vanilla
3.5 cups flour
1.5 teaspoons baking soda
.75 teaspoon baking powder
.75 teaspoon salt
2 teaspoons cinnamon
.5 teaspoon nutmeg
1 cup raisins
1 cup walnuts (but only if you feel like it; I usually pass)
***Here's what you do:
First, freeze completely six cups grated zucchini in two 1-quart bags, 3 cups each; it may take longer than overnight. Thaw both bags completely before mixing. There will be liquid in them thar bags, or should be.
Preheat oven to 350.
Beat eggs well with fork in large bowl. Add sugar, oil, and vanilla; keep beating until arm is sore. Drain the bags of zucchini of most of the moisture; leave approximately one-eighth of a cup of liquid in each bag; eyeballing it works fine. Add dry ingredients and contents of the two zucchini bags, raisins, and (maybe) walnuts. Mix very well. The batter should be quite thick.
Pam your tins! (Always wanted to say that; Pam's my roommate.)
Pour batter in tins, about two-thirds to three-quarters full. Bake for 41-52 minutes, or until toothpick comes clean; the number is 47 in my oven but, not unlike we authors, as you know, all ovens are different.
Eject loaves from tins. Cool. You shouldn't even need butter -- mucho moisto.
Eat.
Share.
Yum!