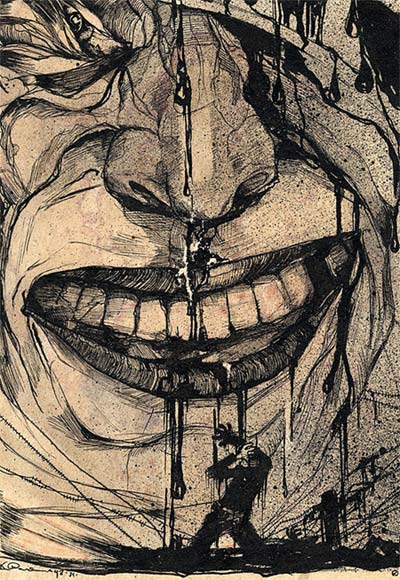 Rock me. Roll me. Hold me. Save my soul.
Salvation in your jellyroll.
Baptize me in spit, cum, sweat, and tears.
Be the salt of my earth.
A sweet, sweet, wild ride to oblivion.
She collects her pay.
I weep.
I dread the days unfolding. Without. Her.
* * *
I jump. Jump. Trampoline. Jump.
Leap, for a split second, thrust and gravity cancel each other out. Hung in perfection. Balanced between everything. Everything is everything and nothing, and some things exist there.
Jumped for hours for days on end. Living for the split second instances, add them up, swallow them, past them through my bowels. See them sparkle in my toilet bowl.
* * *
Six weeks' hospitalization for rationalization. End of insurance coverage. Cured until the next insurance coverage cycle. Doctors, drugs, sessions, sanity questions, outpatient, inpatient, impatiens grow in the flower bed outside my window.
Find the suspension instant in, in the eyes the second between not recognizing, and recognizing, realizing, between known and unknown, record, steal, seal away the instances. Revel in them. A miser counting his coin.
* * *
She fourteen to my fifteen. She neither believes nor challenges. Paints word pictures. An auctioneer's speed of a machine gun, rat-a-tat-tat. A projectile word vomit.
I neither believe nor challenge. Still, still when I stop listening, stop trying to hear. Her word pictures come crystal clear, break my heart, fracture my mind with their beauty, intensity, honesty, horror, perversity.
Teaches me the retreat into her safe ports, connects us to spare us gives us respite in the brackish pool of our body fluids.
* * *
Limpid LSD, sonorous heroin, ragged weed, hapless hash, meth to death. Weak ass bullshit fails us. Repeatedly.
Hooky. Expelled. School for the crazy.
Shock treatment! Shockingly bland blandishments of witch doctors.
Selling ourselves our only commerce.
Buyers grow scarce.
Crazy money. Too crazy to work or cure. Paid to be crazy.
Living to lick up her spew, merge, fondle the instances, fuck away the world.
* * *
I have seen them consumed them counted them courted them magnified them.
She senses them. Now. Fear. Escape. Flees.
Alone. Lonely. Lost.
Buy. Buy refuge between thickets of thighs by the hour. Bye. Buy.
* * *
They have her! Captured her. Confined, caged her. Collecting now. Through me. Collecting. They collect the rented ones. Collect anyone, I touch, touches me.
No respite. No more. No sweet repose.
* * *
No admission for me. I'm the gateway.
Others get away. Gone away. Vanished.
The investigators investigate. Investigate me the common denominator of the disappearances.
Insinuation, brow beating, telephone book beating, fist and feet after the beating investigator disappears.
In my cell, I jump with my broken nose, ribs, and fingers. Jump. Jump.
I feel her pulling and pushing, welcomes and regrets, warnings.
I jump.
Jump.
Into.
Into.
Her.










Image: "Red Laughter" by Karlis Padegs (1911 - 1940)