An Interview with Author Ralph Bland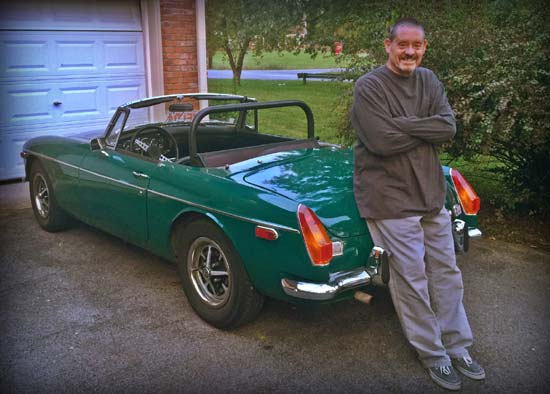 "Ralph Bland grew up in East Nashville and received a smidgen of education from the Metro Nashville School System, namely Rosebank Elementary and Stratford High School, although both institutions deny having any affiliation with him. He is a 1973 graduate of Belmont University, where he majored in English and spent most semesters on Chapel Probation. He spent 38 years with the Kroger Company before being run off in 2005 to spend a few hectic years delivering snacks and sodas to ungrateful clients. He returned then to the grocery business as a manager/bookkeeper at one of the last independent stores in Nashville and retired in August, 2012, to devote time to his writing, his three dogs, and his wonderful wife, who with this prospect in mind decided to pick up her workload with Metropolitan Nashville Public Schools." (excerpt from his website: http://www.ralphbland.com)
1. How, and when, did you decide to become a writer?
My eighth grade English teacher was a real doll, young and single and straight out of college, and it became almost a pastime with all the boys in my class to do whatever was in their power to amuse her and attract her attention. I can remember her laughing at some of my descriptions and saying I reminded her of Holden Caulfield. Who? I asked, and she gave me a copy of Catcher in The Rye. When I finished it I kept thinking how I wished I'd written that book. It was right around that time when I decided I would write books like Mr. Salinger's some day. To be honest I think my literary aspirations had a lot more to do with primal urges than artistic pursuits, but a guy has to start somewhere.
2. What types of writing do you do?
I've always been drawn to the novel as a first preference, but I also like poetry and short fiction. I haven't written poetry in a long time, but I have a lot of verse hidden away in my catacombs from my wild mad apocalyptic college days I'm not ready for the world to see in this particular lifetime. I've published a few stories down through the years, too, but the novella seems like the best fit for my short works these days. Being a Southerner, I find it difficult to travel in a straight narrative line from Point One to Point Four when I write; I always wander off the beaten path and go to a store or meet up with an armed robber or something to that extent, and the next thing you know I'm way past the word limit and just getting started with the story, so I tend to take the long way home to make my point.
3. Are you solely a writer or do you have multiple occupations?
I'm retired now after working forty-plus years in the retail grocery business and later running a snack route stocking drink and candy machines. I got up at three in the morning for years to write before work then returned in the afternoons to write until I started nodding off, so it's nice to be able to write now and not have to worry about being on someone's schedule.
4. What seems to be the recurring theme(s) in your writing?
My themes have always had some basis in the past (high school, college, past romances, music, historical events that have affected the characters), but I think more than those physical reminders there is always the underlying battle going on with my characters inside their heads and hearts and souls over why life is the way it is and what they will have to do in the future to make it through such a wild and woolly world alive and somewhat sane.
5. Do you listen to music while you write? If so, what kind of music?
It's difficult for me to write with lyrics going on around me. I keep wanting to steal phrases from Cole Porter and Johnny Mercer and make them my own, so I work best listening to instrumental jazz or classical when I can't stand the sound of my brain grinding and screeching to a halt, but there are a lot of times I like to work in abject silence and read back sentences to my three dogs and check out their reactions. Dogs are good listeners.
6. Do you have a favorite book or author?
I've been influenced by many great writers and books over the years. I like Ken Kesey and Jack Kerouac a lot, Salinger, Fitzgerald, Joyce, Wolfe, James Jones, Lee Smith, T.R. Pearson, Richard Russo, and the great Irish writer, J.P. Donleavy. Hard to pick a favorite book, but From Here To Eternity by James Jones has been at the top of my list for decades. Maybe it beats Donleavy's The Ginger Man by a whisker.
7. What's the one advice you would give to a new writer?
A new writer never needs to wait around for inspiration. Sit down and write something every day. Even if it's bad. Even if it's crap. In my experience some of the fertilizer I've dropped that at the time I thought stunk sometimes grew and blossomed into some nice passages along the way.
Piker Press contributions by Ralph Bland.