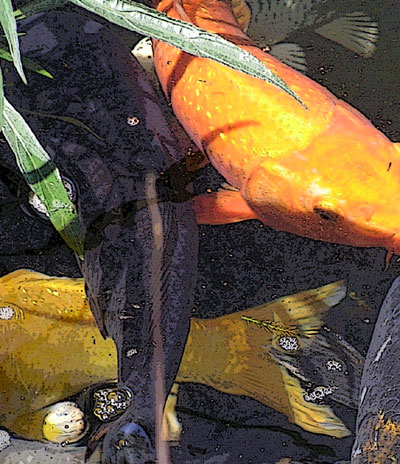 Chapter Five
Emily slept like a mummy entombed in a well-endowed sarcophagus until five the next morning. She stirred, looked at the clock to see the well-known hour, and then listened for the sounds of the house. Nothing. The sound of no sound, the quietude of the sleeping house lulled her, and she drifted into a pleasant half-sleep, one that was free of headaches, that cared nothing for the shameful past.
Her bed was subtly fragrant; there was a type of incense she'd smelled at the Episcopal Church down town one Christmas, and asking the pastor about the smell, had found out the name of the brand. She'd ordered a tin of it soon after, and made a sachet of the richly scented kernels to keep her bed linens company. Mark didn't like the scent much, but he didn't sleep in her bed, so tough. Emily drifted through images of her fish and her closet, the fish entwining with her favorite clothing, nudging sleeves forward with their noses.
Mark's alarm went off, jarring her awake even through two closed doors and a hallway. He always wanted to be the first person arriving in his department, opening doors and watching to see who was early, who was on time, and who might be late. Normally Emily would be up to see him off. Her day would have begun at least a half an hour before. But today, tonight, today, this morning, whatever it was, she didn't care enough even to stick her feet out from under the covers. Let him deal with his own shit. Surprised by such a thought, Emily opened her eyes, though she still did not move. She didn't want to hear about how stupid his co-workers were. Or how banally stupid his students were. Perhaps it was in part how stupid she knew his peers were after that utterly disgusting party, and perhaps she just didn't want to chance him making small talk in the morning about his stupid, stupid, broken set of damn dumb dwarves sitting in the sunrise in the garden.
She awoke again at lazy eight o'clock, and went immediately to make some breakfast. The lack of pain in her head was like Christmas all over again, and the actual hunger for breakfast was a like a reprieve from death. As she made toast with loads of butter and a cup of hot, sweet tea, Emily thought about where to have her breakfast. The kitchen? She'd spent too much of the past two days in the kitchen to want to sit in there. Besides, the dirty glasses that had to be returned to the party store were still stacked in cases by the worktable, and reminders of the party were quite unwelcome. But if she looked at it that way, was there even any room of the house that didn't remind her of the party? Only her bedroom, but that was good enough. Then she was inspired. She carried the tea and toast to her bathroom, turned on the vanity lights, set the radio to the classical music station and drew a quick hot bath.
She pretended that she was the lady of a castle, and that she had only to raise her voice and a maid would come running with more hot, buttery toast and a thin slice of melon. After her bath, she would have her hair braided (fantasizing that it was long and honey brown) and then be dressed in a long, rustly gown of pastel pink, with white cuffs and low-cut neckline that showed her white chemise peeking. I wonder if I'll ever grow up.
In her private journal, which she kept hidden between her mattress and box springs, she allowed herself to dream about far away cities. She'd checked books out of the library about the cities, and read them avidly, taking notes about things that fascinated her. She would make up a name for herself and write journal entries separated from her own by drawing boxes in ink around them.
Today it was raining, raining so hard that the tourists fled the monuments and the pigeons kept to the overhang of the dark roofs that lined the boulevard. I did not flee, but wisely kept myself company in front of a warm fire in Les Deux Palais. It was a relief to know that I would not be seen in the background of a tourist's clicking camera for a day. -- Marie Roussel.
When life became stressful, she would pretend to be one of the journal characters from a foreign land amused and charmed by the customs and concerns of the life of a professor's wife on the coast of California. All of the pretense was in silence, of course -- she didn't want anyone to send her for psychiatric evaluation just because she liked surreptitious role playing. After all, she wasn't pretending to be a sadistic murderer or a cannibal, or a prostitute.
Like today, just a pampered princess for a while.
Once, during an argument years ago about whether or not to invite her father and Middi to a summer barbecue, Mark had called her just that -- a pampered princess, who was, he told her, not tied to her mother's apron strings but strung along by her father like some voiceless puppet. The words had stung, because she knew that she had been pampered and cosseted and maybe just a bit spoiled. She was an only child, and she had always known that her parents considered her to be precious. She never called her father "Daddy" in front of Mark again, nor asked Mark to include her parents on his guest lists. Thank God for that, if Daddy had been here last night, I would have died of shame instead of just being disgusted.
Pleasantly full of tea and buttered toast, the pampered princess rose regally from her bath with a loud sloshing sound and pulled one of the rose colored towels from the rack. The towel was cold. The princess had to hold onto the edge of the tub while she clambered out, and the maid had disappeared. No doubt she's been called to the side of the Queen Mother. Emily giggled, and the princess' built in bustles jiggled.
There was no pink gown to wear while she loaded her Lexus with the cases of dirty dishes and silverware, but wool slacks with an elastic waistband were far more comfortable than a whalebone corset anyway.
While waiting for the men at the party store warehouse to check in all the glass- and silverware, Emily called her father's number on her cell phone. "Oh, hi, Middi, this is Emily. Is Dad around?" Emily always felt a bit timid around Middi. The woman had a voice like a brass gong, was opinionated on every subject you could imagine, and had all the restraint of a caterpillar earth mover set on 'Demolition.' "Sure," she replied to her father's wife. "I'm not in a hurry. I can wait. Happy New Year! How are you today?"
"Colder than a rat's ass in Norway!" Middi exclaimed. "The fog has us socked in here for twelve days with NO break at all! You know we just got that little gas-fired heater to take the chill off the downstairs, but I swear we have to stay within ten feet of the damned thing in order to stay warm!"
"Is your furnace broken?" she asked Middi, worried about her father.
"No, hell, no, but this little gas stove uses a lot less gas to produce a whole lot more heat. And you know how it is, we hate having the bedrooms warm at night. All I need is one hot flash and we're peeling covers off and sleeping under a sheet! Well, here's your dad."
"Emily!" cried her father's voice in pleasure. "How are you? Happy New Year, Kiddo!"
"Happy New Year! I'm good, Dad, but I'm in trouble. Not real bad trouble, but bad enough, and I'm hoping you can help me."
"What is it, Angel?" Her father called her Angel as often or oftener than he called her "Emily." Her middle name was Angela. "What do you need?"
"Dad, I knocked over one of Mark's Schroeder Dwarves and it broke into three pieces. Do you know anyone who would be able to repair it? The breaks are very clean." Emily's stomach began knotting again.
"What, one of those fake Schroeders? I told Mark those were duds. Why the hell isn't he asking me himself? Is he afraid I'm right?"
"He doesn't know I broke it."
There was a silence on the other end of the call. The warehouse manager brought Emily the exit paperwork to sign, and she got back into her car. "Dad?"
"What did you do, look at it wrong?" her father asked, his voice as deep as you would expect of a man whose last name was Storm.
"No, I was out on the patio, and I stumbled, and knocked it over. Do you know of anyone?"
"There's an antique statuary dealer down in Carmel we know. If he can't do the repair, he'll know someone who can. Middi!" he called. "Does that joker still work in the gallery by the Italian restaurant we like?" A garble of words sounded in the background. "Okay, the gallery owner's name is Harker. I'll give him a call and see if he can do the repair or knows someone who can. But I tell you Emily, if we take that statue to him, I'm going to ask him outright it it's a fake."
"Daddy," Emily laughed with relief, glad to be alone so she didn't have to call him Dad. "They're not fakes. But thank you, thank you!"
"I'll call him right now. Why don't you come down for the weekend and bring the pieces? After that I wouldn't be able to help you out for at least a week, Angel. Middi and I are taking off for Las Vegas. The rain and cold are getting to us both."
"Oh. Okay. Okay! I could use a break from Port Laughton, actually."
"I'll call you back on your cell phone if I have any news. And you tell your husband that if he yells at you for an accident, I'll come up to Port Laughton and kick his scrawny little butt." He laughed. "Middi says she'll do it for me, free of charge. Bye, Kiddo."
"Bye, Dad."