There is no small degree of irony in the fact that after all the things I've done in my life, I'll probably be most remembered for my association with scrapple, the rustic delicacy of random pig parts and cornmeal. I can not deny that I am fond of it, nor can I deny that scrapple frequently is part of my writing and conversations. Perhaps if I had continued to reside back in the midst of scrapple country in central Pennsylvania, no one much would have taken notice of my fondness of scrapple, but as fate would have it, I moved to California, and here no one has ever seen a live scrapple and very, very few have ever eaten prepared scrapple.
There is a California company from whom you can order scrapple West Coast Scrapple, and from the pictures on their site it looks legit, but it is a little pricey at over $7.00 a pound, and there is also Bette's Ocean View Diner in Berkeley, the only California restaurant that I know that features scrapple on the menu. Bette's was featured on a Food Network program, and from that I know that they make their own, but I haven't gotten around to trying it yet.
Being a scrapple stranger in a scrapple-less land, I was forced to learn how to make my own. It was very good scrapple, and I ate it as I always have -- fried golden brown and delicious in a pan with bacon frying, served with maple syrup and an egg or two on the side. And I was happy.
Then the other day, while watching a television show starring Andrew Zimmern, I was challenged. He had gone to a liver mush festival in Shelby, North Carolina. I immediately recognized the food. You may call it liver mush, but a rose by any other name is still scrapple. It was the classic pig offal mixed with cornmeal and served fried. However, there was a twist -- a liver mush sandwich. Some enterprising cook had taken the liver mush, fried it, and served it on a bun, garnished with mustard.
What an intriguing idea. I had to try it. So I made a batch of scrapple and went to work. The sandwich I saw on the telly had a couple of flaws to my way of thinking. First, the liver mush was cut too thick. It is, after all, a strong-tasting food, so you want to be careful with that. Also, you've got to be able to achieve the proper balance between the mushy interior of a slice of scrapple and the crunchy exterior you put on it in the frying pan. Too thick a piece, and it's just a little too soft. Second, the mustard. I'm not a big mustard fan, but I know there are people that love mustard with their pork, and scrapple is porky. But I still prefer the porky-mushiness to be cut with something sweet. Finally, I don't think a bun is the best choice for the bread. Again, it's a balance thing.
So, having my fresh scrapple in hand, I proceed to slice it thin (a quarter to a third of an inch) and put a nice sear on it in the pan. While it's frying, I toast two slices of bread, which I then liberally spread with mayo (for the sweetness I prefer). When the scrapple was ready, I put it on the toast, give it a little salt and pepper to taste, then top it all off with some thinly sliced white onion.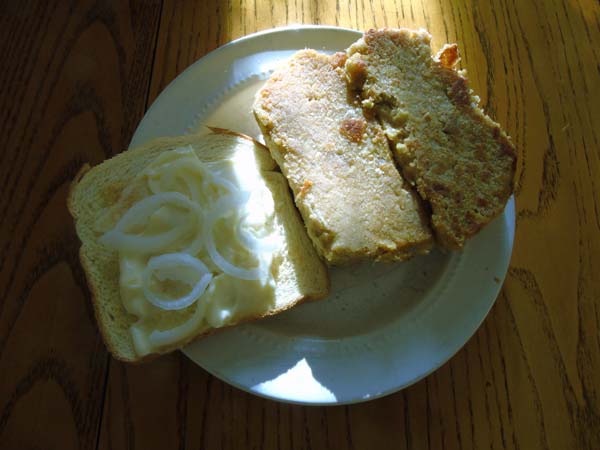 Voila! The scrapple sandwich. Different than the traditional scrapple-egg-syrup presentation, it was pleasantly enjoyable -- the crispiness of the toast playing nicely against the soft scrapple, the mayo lending the right amount of sweetness, and the onion a little crunch and tang to complement the pork.
So thanks, Andrew Zimmern, and thanks to the liver mush people of Shelby, North Carolina.