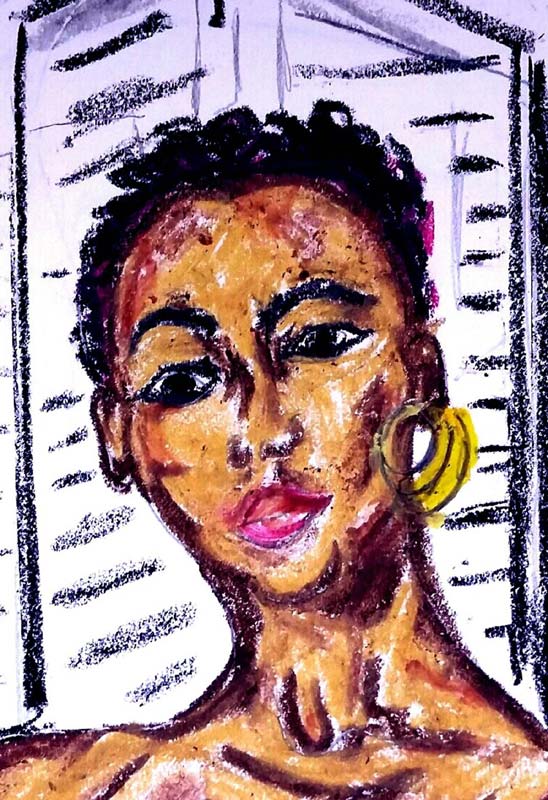 Her hair caught and held my attention, stimulated my imagination, changed the direction of my day, a brown-skinned, black woman with nappy hair. Inch long nappy, kinky unrepentant, uncombed, wild and wooly hair on a curvaceous sister wearing an orange and gold sari, one gold hoop earring and sandals. I saw her on my bus to work this Monday morning, the queen of the commuters.
Standing at the back of the bus I watched the motion of her head. In a sea of straight, curly, thin, thick, dyed, highlighted, braided, dreaded, weaved, twisted, pressed, and conditioned, hair, her tresses were an island colony in rebellion against the sea itself, against control, domination, domestication, misdirection, self-destruction, against the foundations of civilization.
What kind of cape-less superhero has the power and courage to challenge the monolith, monopoly of hair subjugation? What outsized ego dares snub the ninety-nine-billion-dollar hair industry? A goddess no doubt. Perhaps, the Goddess. It is a blessing and revelation to have come under her sway this morning.
I miss my stop. It doesn't matter. I need to meet this one of a kind revolutionary. This may be the Second Coming.
She slips away at the next stop. I can't reach the stop line. My shouts to stop are ignored. I ride to the next stop, race to the previous stop, too late.
* * *
Tuesday she's still on my mind as I take the light rail to the airport for an overnight trip to downtown LA.
I compare the brutal honesty of her presentation to each head of hair I encounter; they are pretenders, masqueraders, deceivers.
I need an extra day to complete my administrative hearing. I think about the unthinkable; I will not comb my hair this morning. I will not. At the last minute, I cave into convention and brush my kinky locks into submission.
This is ridiculous. I'm a man, A black man. A veteran of the Civil Rights Movement. A military veteran. A husband. A father. An attorney. I can go without combing my hair for one day. I have the power and courage to do that. I have free will. I do it on the last day of the hearing.
Not as brave as it sounds. My audience is white, Asian, Latino they hardly notice.
* * *
Back home I call my young, second ex-wife. "Hey, Ruby, how did your interview go? I just got back from LA, and I wonder if Ginger can play hooky tomorrow and hang out with me? I can pick her up before school."
"Cedron, it's late. I was dozing off --"
"Sorry. I didn't mean to --"
"No, no it's OK. Ginger would love that, but you would put the icing on the cake if you picked her up at school during first period. She would love to show her classmates she has a dad that cares enough to break her out of school to play hooky."
* * *
Two days straight, uncombed hair.
I walk to her class with the Principal.
Principal Banes politely ignores my uncultivated do.
Ginger's an only child, private school attending, serious, precocious ten-year-old. "Ginger, your father's here to take you fishing -- or would you rather stay --"
My daughter is out of her chair with her bookbag in a microsecond, all smiles like it was her birthday.
* * *
"What's with your hair? Did you forget to comb it? It looks weird. I have a comb --"
"You carry a comb?"
"And a brush."
"Well, I'm amazed, Ginger Snap. Let's go catch some fish, and I bet I with my uncombed hair I'll catch more fish than you."
"That's a bet, Daddy Snap, but if you lose I comb your hair, OK?"
* * *
She's a serious fisher.
I look at her straight hair. I wonder if she even knows what her natural hair looks and feels like.
I have never seen her mother's natural hair or my mother's or my grandmother's.
"If I never combed my hair again would you disown me? Be ashamed of me?"
She cast out again, smiles in satisfaction at her efforts, turns her serious eyes on me. "I would divorce you if kids can divorce parents, and have mom get a restraining order against you."
"Wow! All that. Serious business."
"Most serious indeed, Daddy Snap."
I ponder her response for a minute.
"Well, would you consider less draconian measures? I could wear a hat when I was with you or, or walk two steps behind you or --"
"No way."
"Ok. I see how it is with you. You're a hard, hard person, Ms. Ginger Snap Collins. Hard as steel and as cold as ice."
"Um hum, yep, that's me to a T."
She catches more fish than I do.
We clean and cook them at my place and save a few for her mother.
"Hey, you forgot to comb my hair, Ms. Collins."
She wipes the grease from her mouth. "I didn't forget. Double or nothing next time, OK?"
"Double or nothing? What does that mean?"
She makes a buzzing sound and pantomimes a barber cutting my hair.
She tells her mom I'm going through "a phase" and that they needed to support me in not combing my hair. Ain't that a trip.
* * *
She calls me that night. "Dad, are you ashamed of me because I have straight hair?"
"Well, to tell the real and honest truth, if parents could divorce kids --"
"You would do that?"
"And a restraining order --"
"Serious business, huh?"
"Absolutely!"
"Goodnight, Daddy Snap. I love you."
"I love you to the moon, Ginger Snap."
* * *
I never get to meet the Goddess with the nappy hair. And that's Ok. I'm watching a new Goddess growing right before my eyes.