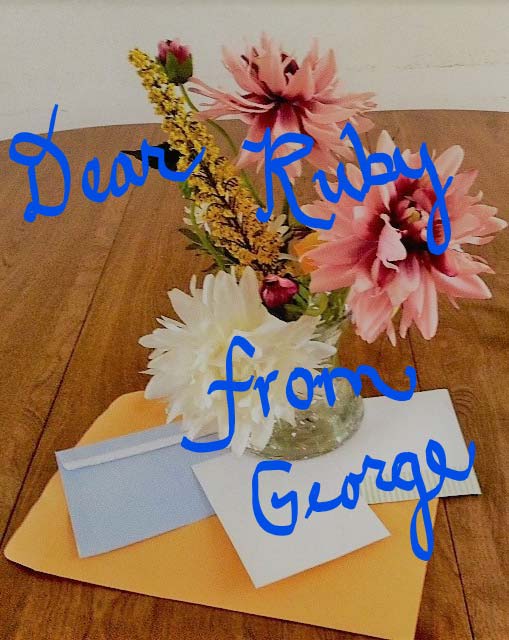 Dear Ruby,
Between the summer of 1997 and winter of 2002 our I-do morphed into who-are-you. We started our lives as husband and wife in a second-hand Chevy with a borrowed tent tied to the roof, and headed for Tennessee for our honeymoon. I thought the possibility of running into a bear would be the only challenge we would face.
I watched the sun reflect off your hair when I should have noticed it inside your spirit.
In that following year, I took for granted your eagerness to embrace motherhood, the role of giver. Should have ... it's a mantra made of acid I wear in my gut.
Sleep during the day and the noon sky is only a concept. Did I read that somewhere? Did you try to warn me, your belly hard, round, ready to deliver?
Our baby. A boy. Lived three hours.
I tried to comfort you with facts instead of arms. "But sweetheart, the doctor said he didn't have a chance anyway. His brain and kidneys were not properly developed."
You said goodbye to George Henry Jr. with tears. To me, George Henry Sr., you gave a list of items you didn't want anymore. Almost everything.
We moved to separate apartments. No matter how many possessions we took away, we both left with nothing.
George



Dear Ruby,
Five years have passed since I wrote you a letter and stuck it in the unpaid bills folder, appropriate in a peculiar metaphorical way. Since then I have been married and divorced twice. You found a good and suitable partner. Your new guy reminds me of a pasta chef who wears his pasta under comfort-waist pants. I prefer to appear as the jogger and sportsman I am.
Of course, I can't criticize anyone else. My second ex-wife told me my image in the mirror and I would get along just fine without her as she closed the door for the last time. She'd just had knee surgery, a soccer injury. I left her with her sister while I went to an out-of-town hockey game with a buddy.
I was beyond eager to start over. I met a blue-eyed blonde at a party and we were married two months later. She was a head turner who brought lingering stares. A month later my mom offered to visit from New Jersey. When her flight came in I needed to work mandatory overtime. My wife wouldn't pick her up at the airport because she'd miss a spinning class.
My brother took a half-day vacation. He said he was grateful for the opportunity. Our hide-with-the-first-whisper cat offered more camaraderie than my wife did.
"Are you sure about this?" Mom asked when she hugged me goodbye.
I shook my head.
Strange, when I bid adios, the cat seemed to want to follow me. He'd had no other name than cat. I wanted to help him, a new notion for me.
You and I have both lived in Woodtown, Illinois all our lives, and I ran into you and your husband at an outdoor concert, seventy miles from home. The music was too loud for a bat to catch more than guitar chord and drum beat, but your face looked different, your hair too thick, and darker. Then I caught a single word from your husband's mouth, "mastectomy."
You looked down at the moonlit grass and he gripped you around the shoulders.
I nodded at the ground rather than stare at your lopsided chest.
Some people you knew appeared, started a new conversation, and I was spared an awkward see-you-later that may or may not happen.
The beat of the music irritated me. It felt syncopated against the rush of my heart. Change, what could be different for me? I'd lost, but so had you.
On that summer evening, I hadn't met Elise yet.
I'm a slow learner. In time, I caught on. Thanks to a life teacher who did more than let me see in the mirror the narcissist I am. She let me know I was worth the effort to improve.
George



Dear Ruby,
If one ex-couple becoming friends with another ex-couple weren't an off-the-wall notion, I'd send this letter in a flash. Elise and I have been married ten years and she is pregnant with our third child.
You and Elise could never be mistaken for one another. You have always been tiny, the forever-moving ruby-throated hummingbird. Elise is two inches taller than I am and a one-thought-ahead planner. Under different circumstances you would get along.
She, too, is a fighter. I heard you have been in remission long enough to be called a survivor and volunteer to help women now going through chemo. Elise is an oncology nurse. She had leukemia at age four and licked it.
And -- here's the kicker -- she knows I'm writing these words. "It's part of your growth," she said. "Part of your need to say I'm sorry. And no, I don't need to read any of it."
Trust, the way a mountain climber knows the next rock will be there. Remember the cliffs in Tennessee? How we wanted to rappel, but didn't have the equipment? Maybe we both needed time to find them.
I wish the best to you and your mate. May you find friendly cliffs to explore.
George



Dear Ruby,
Twenty years have passed since I wrote you the first unsent letter. Now, there's Facebook and texting. People broadcast intimate details of their lives. I'm not interested. The muffin I had for breakfast and nail in my back tire aren't fascinating enough to share with the birds at our backyard feeder much less any ten-year-old girl with Internet service.
Everyone in Woodtown, Illinois knows about Patrick though. He's my middle son -- was my middle son, until his miniature basketball rolled into traffic. A young well-known college basketball player drove over him as if he'd been a squirrel that didn't get out of the way. Driver and friend had at least a case of beer in the car. At ten in the morning on a Saturday.
A local reporter asked me how I felt.
"How would you feel?" I answered. "How would any halfway-alive parent feel?"
Elise had already thought about it. The reporter's ears must have singed. Perhaps if the driver had been an attendant at a gas station we could have grieved, privately, dealt with the cavern in our mountain pass easier. I don't know.
We chose a quiet burial service.
Strange that I remember, only now, this is not the first son I have lost. You, Ruby, bore the first pain. I walked away.
Infant George's grave is in the same cemetery, a meeting place for all eventually.
But, while we live, maybe we can notice each stone as we keep moving. Not every climb is uphill.
Forgive me for a past that can't be retrieved; I'm still working on it.
George