This Old House Has More Problems Than We Thought and, Yes, We Have Buyer's Remorse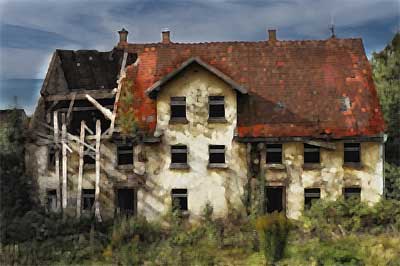 You know I have to go --
there's too many sprains in this house,
too much acne in the air,
athlete's foot between the slats,
reddish something in the drains.

There isn't any time to spare --
the dry wall wrinkled and wet,
the floor has dismantled itself,
air sloshes through breaks in the window,
doors have slipped vertebrae.

But there will be time to relax--
a bat finds a way to flight,
a pigeon finds a way to freedom,
roaches make their way back to dark jungles,
bleach is sometimes better than water.