Of Cairns and Gratitude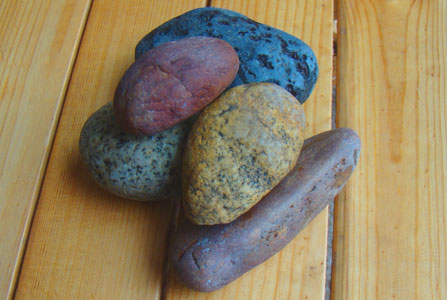 I wonder if she knows, has any idea,
that the five stones she collected in her visit
so many years ago, still grace our corner table
stacked so gently one by one in that solitary cairn --
their quiet voice to remind us of her visit to our cabin's shore.

A simple pile of five smooth stones --
yet when I catch a glimpse of the stack
from the slip of my eye, I'm sure she is still there,
smiling with her mirthful voice -- such friendly banter
which wishes only joy and tender years to come, the winds warm

and gentle at our back.
We've kept the cairn, thought
of Joyce: minutes, even months, when we see it --
have rearranged the stones after the cats see fit to knock
them down in play, yet never did we think that one day, the hour

would come when we'd sell
the house and need to tear apart
this gracious gift of artistry -- its care, the composition.
Will the balanced stack still be the same cairn in a different home,
we wonder? The five stones resume to hold full calm of peace, the luck of love?