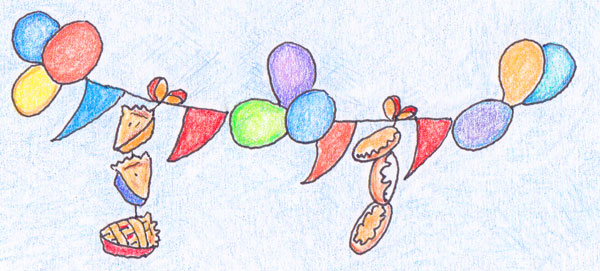 Chapter Nine: The Big Picnic (2)
The invitations were for one p.m., but by noon, many of the volunteers had already arrived, and almost everything was ready. The weather was perfect, sunny with a few white clouds sailing across the blue sky. It was warm, but not humid. The decorations were also beautiful. Directed by Muffin and Bagel, Leo and three of his friends had strung paper images of baked goods on ropes between the four trees, forming a large square for the picnic. Along one side of the square were two tables for drinks and food, and a grill, in which coals had already been lighted in preparation for cooking the hot dogs, hamburgers, veggie burgers, and corn. In addition to all these grilled foods, there would be a big green salad (made by Cupcake), a big fruit salad (made by Leo's grandfather), and a big yummy-looking bowl of asparagus risotto (made by Leo's grandmother). Bagel's solution to the tired old argument had been to provide a choice of every baked good you can imagine -- except muffins and bagels. Luckily, the food table was huge.
Leo's mom and dad had generously agreed to work the grill and help serve the food. Soon, they were busy flipping burgers and grilling corn. Leo's mom, an excellent baker, had also made one of her specials, a big chocolate cake with chocolate icing. A good friend of Leo's, another tall soccer player, was setting out the drinks on a smaller table next to the food table.
"You know, boys," Leo said to Muffin and Bagel, as they were all working, "not only do I like both of you guys. I also like my mom's chocolate cake. In fact, there's hardly a baked good I don't like." And with that, he confessed what he had done during the week they had tried to spy on him.
Three blankets had been spread out on the non-food-and-drink sides of the picnic square, and three folding chairs had thoughtfully been set up next to one of the blankets. These chairs were for the older guests, the old woman and Leo's grandmother and grandfather. The games were piled up in a corner, ready to go. In charge of this important part of the picnic would be Leo and two more friends, a third big soccer-playing boy and a short, friendly, sturdy girl who liked to play everything, including tricks. She also liked jokes.
As the other guests began to arrive, a group formed itself on the blanket next to the games. It included Leo and his three friends, plus Fox, who somehow looked frightened in the midst of the big boys. Leaving this group, Leo came over to Muffin and Bagel, who were now helping his parents set out the first batch of grilled foods.
"Don't worry, guys," he said. "We told Fox that, if he tries any funny stuff, instead of Pin the Tail on the Donkey, we're going to play Pin the Tail on the Fox. Or, maybe, we'll use his head for a piñata. But we want him to enjoy the picnic, too, so we told him he can bite all the hamburgers and hot dogs he likes." When he heard this, Muffin stopped worrying. Although Bagel had been pretending not to be afraid of Fox, he, too, looked relieved.
In a second group, Leo's grandparents, after resting on their chairs for a few minutes, were talking with the old woman, with the sturdy, playful girl, and with Cupcake and the baker. The baker had gotten a snazzy new haircut that made his head look like a combination bagel and muffin: a bald spot in the middle and brown puffy hair all around it.
"Nice 'do, Bro," said Bagel, rolling over to this group. The girl laughed, as did Cupcake. Muffin, who also came over, thought that Bagel was trying to sound cool in order to impress Cupcake. To his surprise, Muffin felt jealous. Cupcake looked particularly cute today. In addition to her pleated paper skirt and blonde icing, her dark brown cheeks looked as if she had dabbed a little strawberry jam on them. She and the girl were already becoming friends. In fact, they looked as if they would be happy talking to each other all afternoon.
As they returned to the food and drinks section, Bagel asked Muffin to explain what had caused the end of his friendship with "that cutie pie, Cupcake." Muffin paused for a moment, and then replied.