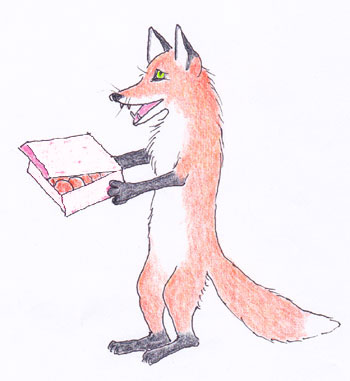 Chapter Ten: The Big Picnic (3)
"It was very simple. A couple of years ago, when Cupcake and I were still young, she started nagging me to be her boyfriend. But I wasn't ready for that kind of stuff, so I told her I didn't want to. When she wouldn't stop trying to hug and kiss me, I said some mean things to her, and she said some mean things back." He shrugged. "And that was that. " As he had been speaking, Muffin saw that Cupcake and the girl were now laughing and talking with Leo and the other boys. Again, he felt jealous.
"Cupcake," he realized, "has become the apple of my eye."
After the confession, Muffin returned to the food and drink area to help with the second round of grilling, which Leo's dad had just begun. Bagel rolled back to the group he and Muffin had just left. Perhaps because he was now aware that Muffin still liked Cupcake, Bagel perched on the edge of a blanket, where, leaning against the trunk of a tree, he ignored Cupcake and happily began chatting and laughing with the funny girl. Anyone could see that Bagel liked girls, both the baked and human kind. At one point, Muffin thought that the girl must have told Bagel a good joke, because he lost his balance and toppled over. No harm done! She kindly helped flip him back onto his edge, and they chattered on. Meanwhile, Leo's mother was busy telling her parents, who were also his grandparents, all about Muffin and Bagel.
By now, the food was ready, and the guests were invited to help themselves. Everyone dug in, and soon they were all talking with their mouths full. Meanwhile, Muffin and Bagel finished setting up the equipment for the games, including the donkey picture, which they taped to the trunk of a big oak tree. As they worked, the baked boys congratulated themselves on the success of the picnic so far. Of course, there was no piñata. That had just been Leo's joke. Then, suddenly, they both noticed that Fox, Leo, and Leo's three friends had all disappeared.
"Uh, oh," thought Muffin. But the missing four immediately emerged from the woods beyond the picnic site. Fox and one of the boys were each carrying a large, flat white box. Standing in front of the food table, Leo began speaking in a loud voice.
"Attention, please, everyone!" he said. "In honor of the hosts who have organized this wonderful picnic, let's have three cheers for Muffin and Bagel!" While everyone cheered and clapped, the baked boys bowed deeply. Muffins and Bagels cannot blush, but if it had been possible, they might have.
Opening the two white boxes, Leo and Fox displayed the contents to the guests, and Leo announced, "Here we have two-dozen bagels and two-dozen muffins. To further honor our hosts, I hereby invite each of our guests to take exactly one bagel and one muffin. One of each, please."
With that, the stale old dispute ended forever. Everyone resumed eating and drinking, saying how delicious everything was. Muffin began to worry that they might be too full for the sports and games. When the desserts were served, the baker expressed interest in Leo's mom's chocolate cake, for which she generously shared the recipe. In high spirits, Muffin joked to the old woman that she had dropped some ice cream on her shoe. But instead of even looking down, she stared at him sternly. It was a weak joke, both because Muffin had told it before, and because there wasn't even any ice cream at the picnic. Muffin and Bagel had thought about serving some, but they had worried it would melt. Anyway, there was no shortage of desserts.
"My fruit salad is delicious with your chocolate cake, dear," Leo's grandfather said loudly to his daughter. Muffin knew that the old guy was fishing for compliments.
"Go easy on the eats, Gramps!" joked Leo's father. "We don't want to have to carry you out of here."
"That's cruel, dear," said Leo's mom. "But true."
Suddenly, in a high, ringing voice, the short, lively girl announced: "Listen up, folks! Let the sports and games begin!"
After playing with the balls and water balloons for a while, the competitions were announced, and the competitors lined up. The first event was a sprint, twice across the picnic area and back. Perhaps because everyone else was so full, the only participants in this event were Leo and Cupcake. Cupcake surprised everyone with her speed, bouncing along furiously on her bottom edge, her paper skirt shimmering. With long strides, Leo galloped along right beside her. At the end, Judge Baker declared that the race had been a tie.
Then came the highly popular "Pin the Tail" game, in which almost all the guests (including Fox) participated. After fifteen minutes of fierce competition, Bagel emerged as the first-place winner. Muffin, who came in fourteenth, did not say anything, but he suspected that Bagel had peeked around the edge of his blindfold.
"Hey," said one of Leo's soccer friends (who came in fourth), "did you see that? He cheated!"
But Muffin wanted Bagel to win an event. "I couldn't really tell for sure whether he peeked," he said. "Why don't we just let it go, so we don't spoil the happy mood?" The boy, who was a good sport, agreed.
Some of the other competitions were so funny that they made the guests, who were full of food and drink, look like they might split their sides laughing. One of the funniest was the three-legged race. Imagine a spinning bagel and a short, sprinting girl tied together and bumping and falling forward across the picnic area.
"Three minutes and eight seconds," announced Leo's father, who was timing the race with a stopwatch. The time of Muffin and his partner, Leo's grandfather, had been even slower, eight minutes and nine seconds. To make the three-legged race fair, pairs of human contestants, like Leo and one of his soccer buddies, had to run backwards and blindfolded. Of course, these pairs usually wound up in the woods beyond the picnic area.
To the surprise of many, the winners of this event were Cupcake and Leo's father, who ran the course in one-minute, forty-seven seconds. Their secret was ingenious cooperation. To deal with the big size difference, Leo's father had tied his ankle to the top of Cupcake's leg, so they could move more smoothly than the other mixed pairs. Since no one had thought of making a rule against this trick, they were declared the winners. There was even a prize, a bobble-head for each winner, of Usain Bolt and Shelly-Ann Fraser-Pryce, the sprinters who had won the gold medals at both the 2008 and 2012 Olympics. Cupcake and Leo's father took a victory lap around the picnic area with their bobble-heads held high above their real heads. Everyone cheered and clapped.




Epilogue: "I, Muffin"
After the sports and games, several of the picnickers gathered in a standing group in the middle of the picnic area. There, at the suggestion of Leo's parents, who had been told about the foolish controversy, they began a philosophical discussion in search of a deep, final answer to the muffin-versus-bagel question. They began by asking a series of questions: whether it's better to be young or old, a fox or an old lady, a baker or a peach, etc. As all of these good, smart people and baked goods quickly realized, there are many, many such questions in life. Although some of them aren't silly -- peace or war, fairness or cheating, rich or poor -- others are silly. (No one bothered saying which category muffin-versus-bagel belonged to.) After a while, the discussion wound down, and almost everyone returned to the blankets to relax and to continue chatting, but about less profound matters.
Suddenly, Muffin and Cupcake realized that, for the first time that afternoon, they were alone. They were standing behind one of the blankets beneath an oak tree. Grabbing her hand, he said, "I'm ready to be your boyfriend now, Cupcake, dear. Do you still want ..." Without a word, she smiled and gave him a big hug and kiss. For the rest of the picnic, their arms around each other, the beaming couple wandered from blanket to blanket, spreading their happiness.
As darkness approached, and when the picnic had been cleaned up and all of the guests except Leo and his family, Muffin, Cupcake and Bagel had said their thanks and goodbyes and left the park, Leo's mother came up with a new idea. "Hey, friends, you know what I think? A wonderful book could be written about the adventures of Leo's friend, Muffin."
After a short discussion, everyone agreed this was a good idea. Leo and his grandfather, who had already written some other books, were selected as the authors. The idea of having a book written about him left Muffin speechless with pride. And since Bagel knew that he, too, would play a large role in the book, he looked very happy, too.
"What should we call our book?" asked his grandfather.
"I know. Call it, 'I, Muffin,' " suggested clever Cupcake. Everyone loved that title.
"That's very sweet of you, Cupcake," joked Bagel, but everyone ignored the weak joke.
"We'd better work fast, Grandpa," Leo suggested. "Or by the time we get to the middle, you might forget the beginning."
"Not a problem, my dear," replied his grandfather. "You won't forget."
"And if you need any help," Bagel offered, "just ask Brainy Bagel."


Within a few months, I, Muffin was ready for publication. Now it is up to you, Dear Reader, to judge for yourself whether Leo and his grandfather have just been wasting everyone's time.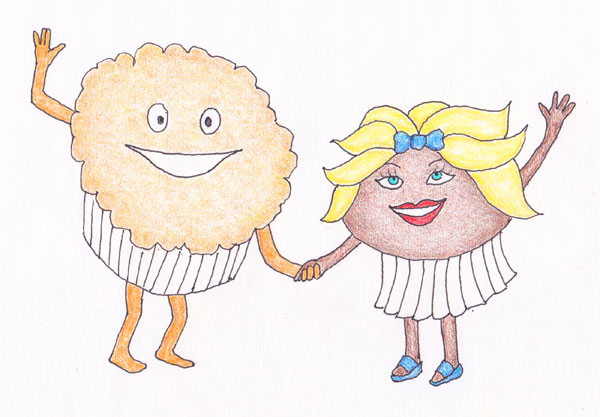 --Under the title, "I, Muffin," Chapter One was first published in Fiction Week Literary Review, April 2015.