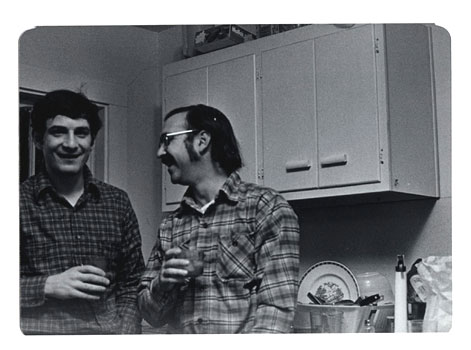 David left Gloucester, Massachusetts, on a Saturday afternoon in late autumn, 1973, and headed south, driving on Route 128 to the Massachusetts Turnpike. A bit earlier that same day I left Philadelphia driving north. As planned, we met at a motel just south of New Haven, Connecticut.
We had grown up as fans of the New York Football Giants who were the "home team" in Massachusetts before the creation of the American Football League and the then Boston Patriots in 1960. Giants tickets were difficult to obtain but in 1973 the renovation of the Giants' home field, Yankee Stadium, forced the Giants to play their final five home games elsewhere -- the Yale Bowl in New Haven. The temporary move out of New York -- which meant fans could not take the subway to the games -- had made tickets available. I had taken advantage of the opportunity and purchased two tickets to each of the five games.
By then my wife and I were living in Philadelphia to continue our training in Emergency Medicine. She and I drove to New Haven on Sundays to watch my Giants but one weekend her duties at the hospital prevented her from going. So my best friend, David, and I stayed at the motel that night and the next day went to the game, watched the Giants lose, and returned to our respective homes that evening. It was a lot of fun.
* * *
Fun is not quantifiable. We know when we are having fun; we recognize that some things are more fun than others. Fun. Sort of fun. A lot of fun. So much fun. Great fun. The most fun. But there is no unit of measure for fun.
The fun occurs during the experience, the adventure, the happening. It can also be fun to recall the experience, reliving it in the telling. The recounting is not as much fun as the actual happening but to tell the story to one another -- the other person or persons who were there -- can be fun.
The fun in recounting is likewise not quantifiable. It is, however, an increment of fun. Recounted yet again there may be more fun. Another increment of fun. Can we add the two increments together?
* * *
David loved to tell old stories. He would tell them again and again. We had been friends for twenty years when we met for that Giants football game and remained friends for another forty-five years until his death. There were so many stories to tell; modest adventures, experiences, mishaps, observations, embarrassments, pleasures.
Some stories David enjoyed telling originated during that Giants weekend trip. The entire weekend was fun -- so much fun -- and there were a number of stories to tell. A particular incident whose retelling he enjoyed occurred the evening before the Sunday game.
He and I went for dinner at a restaurant attached to the motel. It was a linen tablecloth type establishment and perhaps a bit pretentious. We arrived and noted a couple of tables next to a large window that afforded a pleasant view. The restaurant declined to seat us there and consigned us to a small table against a wall on the other side of the room. Soon the seats at the window-side tables were filled by somewhat boisterous couples clearly of New York origin. David and I were not upset but rather amused by all this.
Our dinner was proceeding quite happily -- we were having fun -- with good food (for some unknown reason I recall I had a very good rack of lamb) and lots of laughs. Midway in our dinner a thunderstorm arose with loud thunderclaps, spectacular lightning, fierce winds, and a very heavy downpour. Suddenly water began to pour through the top of the window, drenching the tables, the food, and the customers who leapt up from their seats.
While the restaurant staff tried to cope with this, while the boisterous group verbalized their dismay in that stereotypically loud New York City fashion, and while we sat dry and comfortable at our table enjoying our dinner, we could not help but be entertained by the show.
Over the years David and I occasionally told the story of that dinner to each other; he particularly seemed to enjoy recounting the details. We invariably laughed before moving on to another story. It was fun -- an increment of fun.
* * *
It should be simple arithmetic to answer a question that has occurred to me. Can the sum total of fun produced by recountings of an episode equal or even exceed the amount of fun the original episode produced? If it were possible to have a unit of measure of fun then we could have a sum arrived at in recounting the original episode. If, for example, the retelling produced on average a tenth of the fun of the original and the story were retold twelve times then overall it would have been more fun to recount the episode than to experience it.
Does that even make any sense? How could that be? Intuitively it seems wrong. Recounting certain experiences even just once might be more fun than the actual happening -- a story about getting lost, or a story about a flat tire and no spare, or some other misadventure -- but such examples are different than an experience that was fun at the time.
* * *
David and I along with our third cabinmate were as quiet as thirteen or fourteen-year-old boys could be when in summer, 1960, we snuck out of our cabin very late one night. Just down a gentle slope was a larger building that housed twenty-five or so fellow campers; a surfeit of campers our age had us housed apart. We effected the first "raid" at camp in a number of years quite successfully; a fuse first loosened and then, after all light chains were pulled and radios set to full volume, retightened had produced a spectacular commotion of bright lights and loud music rousting campers and counselors from their slumbers. We watched from back at our cabin, successful and uncaught. Now that was fun!
Recounting the story was always done with some drama, particularly David's retelling, the care with which he entered the room where a putatively fearsome (but in retrospect amiable) counselor slept. The rattle of the pull-chain to the overhead bare lightbulb and the click of the radio knob. The tightened fuse and blast of light and sound. Then finally our escape and relief of getting away. And then we laughed. It was always fun to again experience the relief of the getaway.
* * * One evening, in the midst of a session of recalling a number of episodes, I asked David why he so enjoyed telling and retelling the same stories over and over again, retelling them so many times that my sons could repeat some of them nearly verbatim. David said that telling the old stories over and over, again and again, was like celebrating the Passover seder each year, telling the exodus story again and again so that the memory of it, the story itself, would not be lost.
That is the answer to the question I had then not yet asked. A time of fun is a happiness that stays there forever. Rather than discrete increments fun is more a continuum -- an emotion as is joy, love, sorrow. The episode of fun and its retellings are added atop one another. A celebration. So the stories, even with David's passing, endure.



Originally appeared in Queen's Quarterly.