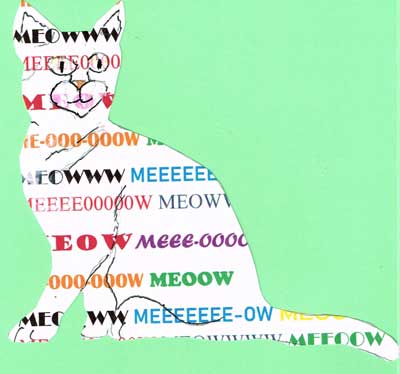 Meow, Grammatically Speaking
"Fluffy, did you hear what our food-supply guy said?"
Fluffy lay back against his favorite pillow on the floor. "I'm not deaf, kid. My ears stand up higher than yours do." Fluffy had a fur and purr the humans loved. And a disposition that kept him in charge, fat, and properly lazy.
"But you didn't react," Bandit ran as close to his superior as he could without getting a swat. "You acted as if he were sitting hypnotized by that flat thing with the flat humans inside. The ones that are screaming at one another one minute, then smiling about some stuff that comes out of a box and gets milk poured all over it."
"I heard. He got the accent wrong."
"The wrong accent. The wrong accent! If he were addressing you, you wouldn't say he had the wrong accent."
Fluffy swished his tail against the kitten's face. "A gentle warning. I'm here to teach you how to be a full-fledged cat."
"I was born a cat. I will always be a cat." Bandit jumped from the floor to the couch on the other side of the room. He ran back and forth at least ten times and then jumped to the other side of Fluffy's cushion on the floor.
Fluffy opened one eye wider and closed the other one. "You may be precocious. However, biting the dude's ankle was not a way to get extra food or catnip toys. Cats are not smart when they bite at the wrong time."
"Good grief, Fluffy, you know what MEE-ooooow means, don't you? With that low, sarcastic tone? The kitten hissed and looked away. Toward the back room where his human sat with this screen that he cursed at all the time. The screen he called a computer.
"That form of our language means, may you meet your demise in your own litter box." Fluffy quieted his majestic feline voice as much as possible. As the king cat, he took his position of dignity seriously. Every king cat did. Bandit didn't need to read Fluffy's mind to know it.
"Exactly." Bandit flopped onto the floor.
"Meee-ow," Fluffy said mimicking a purr. Meaning, of course, keep it cool. "I hear the can opener. It's not the dry stuff. And the smell says fishy, in a good way."
"Meee-ow," Bandit repeated. Maybe the food dude really didn't have a clue about feline grammar. Ignorant though that possibility may be. Meee-ow."
"You're starting to get it, now, kid. To be in charge, first you need to be cool. And eating well is essential. You're starting to know what to bite and when. Follow me to the feast."