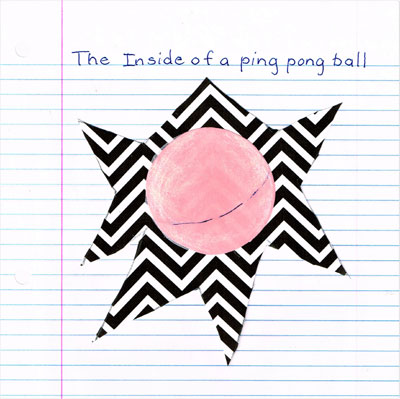 Okay, Miss Marshall. You gave me the standard grade-school punishment. Write 500 words on the inside of a ping pong ball. The essay is due tomorrow morning, Tuesday, April 17, 1956.
I admit it. I talked while you were talking. I told Helen Keith how sorry I am that her grandma died. She had a heart attack on Helen's birthday last week. At that moment, you gave instructions about how to write our next composition. We were to describe how we could make Wellington School a better place. I remember what you said.
"Be sure to write neatly with a fountain pen. No turquoise ink. No smudge marks. No repeating very 25 times in 25 sentences."
I have another assignment. In at least 500 words, I need to extrapolate on the inside of a ping pong ball. Extrapolate was on the new-vocabulary list last week. I hope I get points for that because I'm not upset that you didn't understand why I interrupted you. This essay gives me a chance to explain. I know you paid for Jeremy's prescription glasses when his parents couldn't afford them. He didn't keep it secret, as you asked him. You aren't mean. So, I hope you will forgive me for getting off the subject now and then. Everything will fit inside the ball. Soon.
How many times does a ping pong ball racquet hit a ball without denting the thin shell? Yet solid air holds it intact.
Strange how silence can work. You asked me what I had to say. Was it that important? It worked better to keep quiet. I let your imagination go wild instead of letting you know that Helen hadn't slept the night before. All she wanted was one more hug from her grandma.
You see, the week before her grandma died, she asked Helen to hug her before she left for a birthday party. It started in twenty minutes. Helen said she would do it the next time.
There was no next time.
Helen had been smart enough to pass me a note and not open her mouth. Talking would make her cry. Crying in school is as bad as wetting your pants while writing on the blackboard.
So, this is about emptiness again, the inside of a ping pong ball.
And Helen finally had to fill it with words.
Did you know a twelve-year-old could have this many words? Air is the empty inside of something. It holds a thing together or pretends to hold it together. My mom says I grew up too fast. Maybe that is because my dad died when I was seven. I have never seen the inside of a ping pong ball. But I have an idea about how it feels. Strong in one way and lonely in another.
My mom says that is why Helen knows to come to me.
The boys in our class get in trouble so that they can write something funny. I suspect that if I do something that doesn't fit the rules again, I will have a different punishment.
I am sorry I talked at the wrong time. I am not sorry I helped Helen.