Tacy, My Cat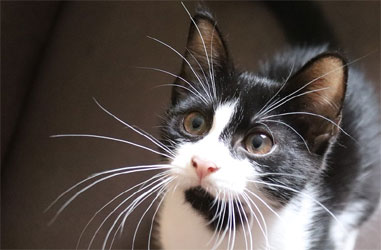 A silent language of love,
like the rays of light
flowing from your bright eyes,
enters right into my heart.
A jump by you
and emotions overflow.
How much I love it,
you just don't know.

After being drained by the blows
of hot wind from outdoors,
when I return inside
to breathe cool air
your primitive smell
refreshes stale memories
from many years past.
Speechless, I feel so good.

With a snap of my fingers
you dance and run,
cling to my feet,
stop me from moving ahead.
I know
that is the way you show love.
I should duck down, pick you up,
and kiss your crown.
Speechless, I feel so good.

My fingers, mystified,
hold your skidding flannel body.
You want to break free and run away.
I want to carry you firmly.
Your charged black and white fur
sends an innocent thrill streaming through me.
Speechless, I feel so good.