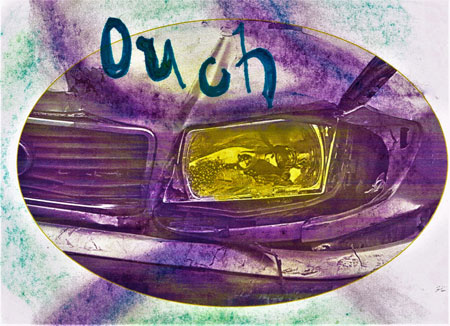 "Your call is important to us ...You have three callers ahead of you ..."
Someone is stabbing our doorbell, serial killer style. It drowns out the hold music.
"Daddy, it's the pizza delivery guy," my four-year-old daughter Susie shouts from the living room.
I placed the order less than five minutes ago, just before I called our insurance company. Not likely.
I move to a window where I can see who is making all the noise. A man wearing a crumpled sheet stands outside the front door. He has a gray beard that reaches almost to his waist. He is carrying a black cross the size of Cleveland.
"Don't answer the ..." I call to my daughter. Too late.
A live voice comes to the line.
"I'll call back," I say too fast for my tongue to manage.
"Can you repeat that, sir?"
"Not now. There's a maniac wearing bed coverings on my porch." I hope they don't record calls.
Susie has opened the door. However, the man doesn't invite himself inside. He seems to be more interested in surveying the neighborhood. This man has as close to an owl neck as anyone I have ever seen. Is he looking for someone real or an image, part of a disturbed, dangerous mind?
"Hi," Susie says.
"I'm from the Redeemed Know-Everything Order. You are about to be saved."
"We aren't interested." I stand ten feet away. "Susie, go set the table for lunch."
"Why, Daddy? The delivery guy brings everything. Forks. Paper plates. Napkins. Then you don't have to do dishes. Remember? Mommy gets mad when you don't do them." She turns toward the guy in the sheet as if he were her best friend's grandfather. "We are waiting for pizza. With lots of pepperoni. We get carryout when Mommy works on Saturday."
"Pepperoni is made from the liver of the devil." The man's eyes open wider and stare.
"No, thank you." I would close the door, but Susie is in the way.
"No, it isn't," Susie answers. "Pepperoni comes from the grocery store. It's born in the aisle next to the ice cream."
Our neighbor across the street pulls into his driveway. Maybe I can get this kook to move his salvation a hundred or so feet across some worn blacktop. "Now there's the gentleman you should talk to. Really." The word, gentleman, comes out clumsily. I don't mean it. This individual is the reason why I need to call the insurance company. He insisted he has no idea why the side of his car matches the dent in mine. Instead, he attacked me. "And maybe you should get a new roof. It looks like it needed replacement years ago."
Suddenly the bearded guy screams. "Yes. You are right. He's the scoundrel!"
"What?" I say without knowing I've said anything.
"I've been following this sinner. Waiting for the right moment for God's revenge."
The bearded guy runs to the sidewalk and screams across the street. "You hit my car and then hit this man's car. Now suffer the pain of punishment. With a righteous witness."
He pulls off the beard, lifts the black cross, and races across the street.
I watch as he smashes our neighbor's windshield with the cross. "And there were members of my church who saw it, too."
Susie claps with excitement. "Is this a show? It's better than a cartoon." She doesn't understand reality yet.
Then again, I'm not sure I'm seeing the real world either.