Boardwalk Nocturne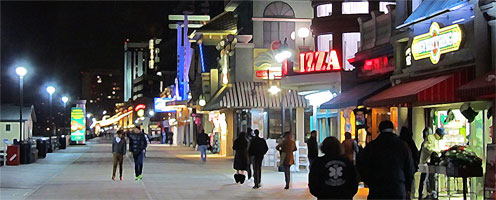 Tortured notes from the piano bar drift out the door
Black ocean mist swallows the music
Insomniac gulls squawk their objections
Spectral figures dance in the shadows
Another night on the boardwalk.

The Drifters got it wrong
Under the boardwalk, above the boardwalk, nothing changes
Go ahead, ask the man huddled in the sand, head resting against a trash barrel
The bottle of peach wine, a recent vintage unlikely to be offered in fine dining restaurants
So what? He's alive, the spirits do their job. Just another night on the boardwalk.

Older man with a costumed girl, voices raised
Count the money, not enough for a room
Dates are scarce, jobs evaporated like a dark magic trick
Convenience store up the block has bathrooms and cheap coffee
One more night on the boardwalk.

A noise in the alley behind Dirty Don's seafood restaurant
BJ Betsy exploring a dumpster, no luck
Rapid footsteps close behind
She turns to face the man, accepts a twenty, bares her body but never her soul
Coffee and snacks at the convenience store, then back to the boardwalk.

The piano man stops, brutal laughter steps into the silence, the boardwalk sleeps
Two o'clock, the night slows to an arthritic crawl
The litter of shattered dreams await the clean-up crew
Hope eviscerated metastasizes into a Kafkaesque hellscape
Nighttime on the boardwalk.

Five o'clock, creatures stirring
Faint light on the eastern horizon
A slow procession begins the half mile trek to the community assistance center
Get in line for free coffee and donuts
Another boardwalk night gone, a new day begins.