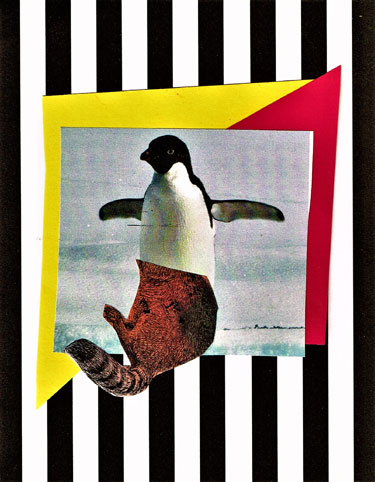 Justin sighed so hard he was surprised his chest didn't hurt. Great Uncle Burt. Good God, something awful was bound to happen because of his dementia. He was living by himself in a cabin in the country.
Aunt Lou made excuses for her dad's behavior.
"Relax," she responded when Justin called to tell her Burt was adopting a penguin. "Daddy isn't that bad yet. He's kind of cute. He's probably talking about a fluffy toy. I gave him a boxful of them for his birthday. Sweet, don't you think?"
Justin stared at the microwave as if it could cook more than a frozen dinner. He needed it to prepare a miracle, not pre-portioned sections of factory-processed meat and potatoes.
"Didn't you hear what I said, Aunt Lou?"
"About what?"
"He took a bus to the animal shelter and asked if they had any penguins. He wouldn't believe they only had cats and dogs and asked if they had any koala bears or giraffes in another section of the building."
"I heard you. So what harm was it? They called me, Mr. Know-it-all. Dad knows my phone number. He's not that far out of it.
"I picked him up ten minutes after the call. He was wearing pajama pants and a T-shirt that didn't match. They talked more about that than anything else. He didn't act dangerously, and he gave them all a laugh later. What's the harm?"
"If you can't figure out why a man with diminished brain function shouldn't be alone, I don't know what else to say."
She ended the conversation with a tone of voice sharp enough to cut more than phone lines. "Goodbye, Justin."
Justin ate half of his small, bland meal. The rest lay on the table in their separate caged spaces. Why bother? His brothers didn't want to hear another word about their old uncle. Craig was too busy returning escaped boa constrictors to their cages and telling owners what animals are legal to own and what critters are not. Allen spent hours in the air, literally, as a private pilot.
Justin, the boring brother, worked in an office. In quality control. Possible only from a desk in an office made of geometric designs, computers, and long tubular lights. This situation was beyond his comprehension.
Dark arrived early, as it always does in winter. He felt as if dusk leading into deeper darkness invaded his kitchen.
His cell rang. He didn't need to look at the number to know who it was.
"How lucky can I get," Uncle Burt responded. "My pet. He's here. But how do I get him to stop running through the house? He's in my garbage can."
"Wait. What?"
"How did you get a penguin?"
"I left the back door open, the one that faces the woods. And it didn't take long. A trail of treats across the backyard. And bingo."
A loud bang came from Burt's house to Justin's through his cell.
"Hey, Pengie, cool it!"
"What does your penguin look like?"
"Black and white. Of course."
"More detail. Please."
"Black across his face. Rings around the tail."
"Holy shit!" Justin hung up. "Craig, Craig, you have to be home."
Justin managed to tell the story without stuttering. He admired his brother's ability to put so many obscenities into a single sentence. "Okay. I'll take care of it. He thinks it's a what?"
"A penguin."
"I'm on call right now anyway. I have no intention of admitting this guy is related to me."
"Thanks." Justin suspected that his uncle would finally get the care he needed. Yet, he knew his uncle probably wouldn't recognize Craig. Soon Burt wouldn't recognize anyone.
Aunt Lou was right. Uncle Burt had been sweet. When he was younger. Sweet enough now to rename a wild raccoon for a peaceful penguin.
Justin had a first date with a girl he met online in two weeks. He hoped the story wouldn't show up on the news. Sure, everyone had a family flaw. Not many people invited wildlife for Sunday dinner.