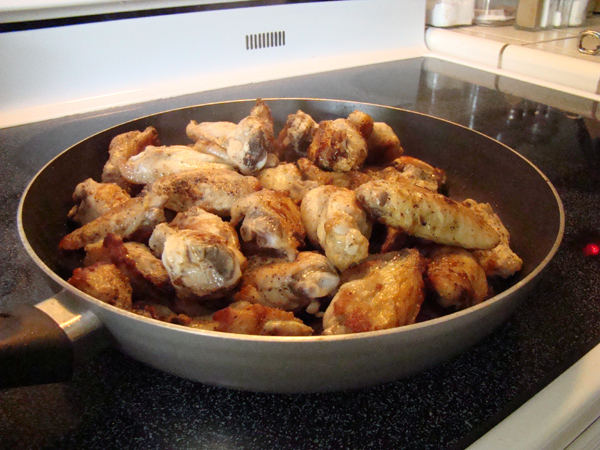 It used to be that I was completely reliant on Bernie for tasty chicken wings.
He would graciously grill them on the barbecue for me, sweating in the heat of summers, dipping in the pool now and then to relieve the scorch of the flames.
Last summer I wasn't home for much of the time, and this summer is a waste as far as barbecuing goes. It's either been TOO hot, TOO cold, TOO windy, or TOO smoky. So I would have had to have done without chicken wings, unless I wanted to broil them, carefully observing and turning them and hoping that they were done. I watched a friend do this, and it seemed -- though the result was lovely -- to be a major pain in the ass. I just don't have a lot of patience for doing one thing at a time.
It occurred to me one day that I could braise the chicken wings. Duh. I tried it, and it worked. And it's easy.
I'm a hog, so I make about four pounds of "party wings" (chicken wings separated at the joint) at a go. Two pounds will easily fit in a 12-inch frying pan, but it must have a tight lid. (I like glass lids so that I can see what is going on.) So, two pounds of party wings, one tablespoon Saffola Margarine.
Melt the margarine over medium heat, add wings. Salt and pepper the wings. When they are brown on one side, turn them over and salt and pepper them again.
When the second side is browned, cover with the lid, add about two tablespoons of water, and reduce the heat to low. About five minutes later, you have juicy, sticky, yummy chicken wings that you can wolf right out of the pan or dip in your favorite dipping sauce. I dump my four pounds of chicken wings into a colander for a few minutes, and then hedonistically eat about ten of them. The meat should slide right off the bone.
And yes, they reheat in the microwave like a dream.