Sometimes going grocery shopping when you're hungry is a good idea. Not often, but sometimes.
Normally I stick to my shopping list, which recently included sliced white American cheese and Lebanon bologna. I picked up those items at the deli counter, and as luck would have it, right beside that counter is a display of various specialty meats, including prosciutto, sliced thin enough to see through. My brain and stomach whispered back and forth in a split second, remembering when I once made oven-roasted chicken draped with prosciutto and smothered with mozzarella cheese. Hmm. Perhaps that was ten years ago? Fifteen? I remember that it tasted good, but was a bit dry; no one threw out their portions, but no one ever asked for it again, either.
A shopping cart full of staples later, I was heading for the frozen broccoli when a boxed dinner caught my eye: the picture on the front of it showed a thickly breaded chicken breast filled with ham and cheese. Looked like a meat-lover's Twinkie. The label said, "Chicken Cordon Bleu." My brain and my stomach grabbed me by the elbows and shook me, and I shrugged them off and stomped down the aisle to the frozen broccoli, thinking furiously.
Most frozen dinners are horrible, loaded with fillers and MSG, barely seasoned, and skimpy on components. No way was I going to buy frozen chicken Twinkies. However, the brain and the stomach were already making their own shopping list, so I turned back, picked up a bag of frozen chicken breasts, headed back to the deli, snagged a package of the prosciutto, and grabbed a block of provolone cheese.
Three days later, having read dozens of recipes for Chicken Cordon Bleu, I pieced together one that my brain, my stomach, and I thought would work for me. Smug and sated, with rave reviews from family, I share it here.
CHICKEN CORDON BLEU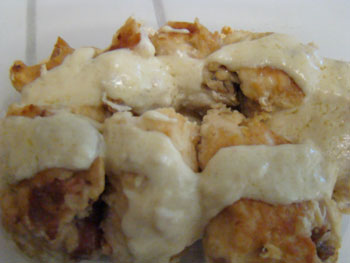 INGREDIENTS:
6 skinless, boneless chicken breast halves


6 slices thin cut prosciutto

2 - 2 1/2 cups shredded mozzarella cheese and provolone cheese

wooden toothpicks

3 tablespoons flour


1 teaspoon garlic powder

1 teaspoon sea salt

6 tablespoons butter or Saffola margarine

1/2 cup dry white wine, Italian Pinot Grigio or sauvignon blanc


1 teaspoon chicken bouillon granules or "Better Than Bouillon" paste

1 mounded tablespoon cornstarch


1 cup heavy whipping cream
DIRECTIONS:
Mix the flour, salt, and garlic powder together in a shallow dish.
Stir the bouillon into the white wine.
Whisk the cornstarch into the cream.
Melt the butter or margarine over low heat in a skillet, one that has a tight cover available.
Thaw frozen chicken breasts thoroughly. With a meat mallet, pound the chicken breasts into a uniform thickness, no more than 1/2 inch thick if possible. (A double thickness of plastic wrap over the chicken keeps bits of chicken from flying up into your face, and makes cleaning the mallet much easier.) Put a slice of prosciutto on each flattened piece of chicken, and a generous sprinkling of shredded cheese. Fold chicken breast over fillings and secure with toothpicks. Roll the chicken in the flour and seasoning mixture.
Bring the butter up to medium heat, and brown the chicken pieces on all sides. Add the bouillon/white wine mixture, cover tightly, and reduce heat to "Low."
Simmer 30 minutes.
Transfer the chicken to a warmed platter. Stirring constantly, add the cornstarch-cream mixture to the skillet. Continue to stir until sauce is thickened. Pour it over the chicken, or serve in a separate bowl so that each diner can have as much or as little as they want.
* * *
This was my first-ever heavy cream sauce; it was so tasty that I can't imagine why I took so long to try to make one. The recipe is so rich and satisfying that one breast portion is plenty as a serving. We accompanied the chicken with a spinach-lettuce-tomato salad with a garlic dressing (3 cloves freshly crushed garlic, 1/3 cup light olive oil, 1/2 teaspoon salt, and 1/3 cup water, shaken and chilled in the freezer for 15 minutes to make it creamy-textured); I can imagine sauteed asparagus as a side, or roasted potatoes broiled to make the surfaces crisp. I wouldn't serve anything on the side that was heavily seasoned -- you really don't want a side that tries to compete with the chicken, because any competitor will lose.
Good job, Stomach and Brain.