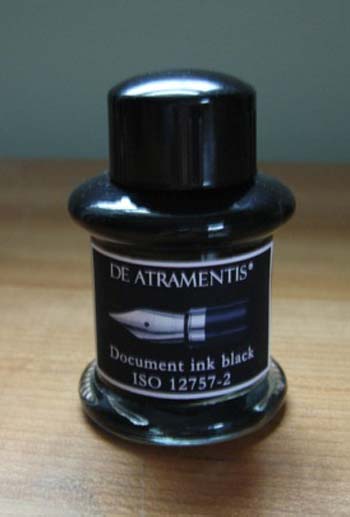 If you go to the De Atramentis web page you will find these guys are really into ink. They are a German company and seem to have a strong bent towards scented ink. I will confess I have never heard of them before, but then that is true of most of the inks that I get from Art Brown. The thing about this ink is the guarantee that comes with it which is backed by nothing less than an ISO certification. Rather than put it in my own words I'm going to insert text from the companies web site:
"Document ink WS 8 - ISO 12757-2
Document ink WS8 suitable for fountain pens - according to ISO 12757-2 - used for writing on paper and documents.
Lightfastness: 8
ph-value: 7.5
Moisture resistance: yes
Temperature resistance: yes (-20?C to +80?C)*
Colour: Anthracite
Content: about 35 ml
* valid for writings on paper
DOCUMENT-QUALITY
Document-quality ink should meet different criteria. It must be resistant to wiping, non-correctable and removable not without fragments of colour. The ink colour has to be lightfast moisture resistant. Moreover, the document ink has to be resistant against particular chemicals and solvents. The necessary test criteria are defined in the Standard ISO 12757-2. Only inks, which fulfill this standard, may use the term document-quality.
LIGHTFASTNESS
Lightfastness describes the resistance of ink against exposure of light and ultraviolet radiation. The lightfastness is divided into several stages from stage "1" a very low to stage "8" an outstanding lightfastness. The lightfaster the colour is, the more complex and expensive the production process.
Range of Lightfastness
WS 1 = very low
WS 2 = low
WS 3 = modest
WS 4 = goodish
WS 5 = good
WS 6 = very good
WS 7 = excellent
WS 8 = outstanding
The document ink WS8 is supplied with gift packaging and certificate."
Are you sold?
So I have just a couple of things to mention about this ink. First, the 35ml bottle costs $35 which easily makes it the most expensive ink I have tested to date. Yeah, even I think it is a significant amount of money. The other inks these guys sell price out at about $11 a bottle which is fine. Other than fanatics like the Ridge Walker, who would lay this kind of smack down? Is there really a market for ink that is lightfast? I'm just incredulous really.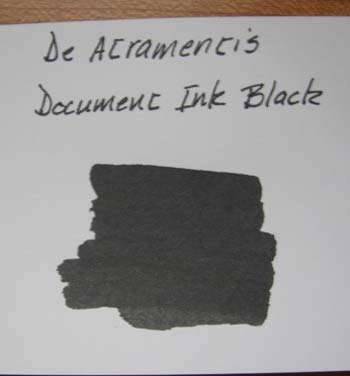 Other than the ISO certification I find nothing remarkable about this ink. The color is one I would categorize as a gray black. It is most similar to Namiki Black, which I quite like. Noodler Bulletproof black, Private Reserve Ultra Black, and Caran D'Ache Carbon are all easily darker than this ink. Presumably over time that would change, though, right? A hundred years hence my great great grandchildren will thank me for the pages in my journal that were written with De Atramentis Document ink black, because they will be the only pages still plainly legible. All the rest will have faded.
I will say too that it is a very nice ink. I have used it this past week and found it flows well in my Sailor 1911 EF fountain pen. If I was gifted with this ink I would be most pleased with it. I will also admit though that upon finding the price I would not purchase another bottle, as light fastness is not something I value enough to warrant the additional price.