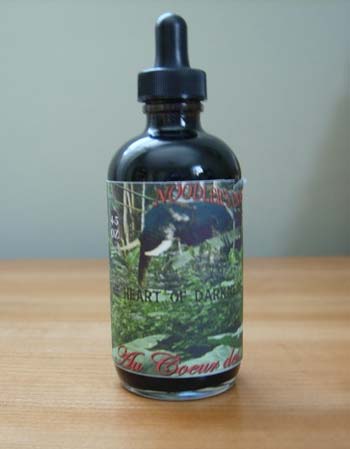 First of all, how could you not like an ink called "The Heart of Darkness?" The name alone makes you want to try it out. It conjures up the thought that nothing on the earth could be as dark as this one. Indeed, the product description from Amazon.com tells us, "The Ink: Heart of Darkness is a combination ink that absorbs as much of the color spectrum as could be engineered, with an average penetration rate." That's a pretty bold statement, and after testing it . . . I have to agree. Read the words carefully though because it is both the caveat and the reason this ink is a very good find.
Are there darker inks, that is to say, inks that absorb more of the color spectrum? Yes. Private reserve Ultra Black is darker but . . . it is much more saturated than this ink. It takes a bold piece of paper for Private Reserve not to bleed through. This ink is on par with Sailor Black (not to be confused with Sailor Jentle Black) and at $20 for 4.5 ounces is much better priced than that bottle of Sailor at $30. Both inks look equally as dark, which is very black indeed. You would like them both.
This ink though? It dries fast on the paper I tested it on! I'm talking write a word and run your finger over it and not have it smear fast. This is most impressive, especially when you consider that Private Reserve is still wet minutes after having written. Minutes! The only thing I can say negative about this ink is that the paper I wrote on, a nice 65lb off white, there was a bit of bleed through. Now I'm not one to let this get in the way, though I understand it really irks some people. My take here is that by the time you write and both sides of the paper a little bleed through matters not. Still I note it as a negative.
Second, I have done a little more research on Noodler's, and what I have found is most impressive. If you will allow me I want to insert a couple clips from their web page. This ink is branded an, "Eternal," ink. Here is what they have to say about that.
"Eternal" refers to any Noodler's Ink that resists the effects of time - moisture, humidity, UV light, acids, water exposure, and many common detergents such as dish soaps and household ammonia, as well as alcohols and acetone (which conventional ball point pens have no resistance to - often rinsing off a newly written check within 8 seconds of being washed with acetone). Many Noodler's inks such as "eternal" and "bulletproof" inks are made with the ideal of reaching out as far into immortality as the written word permits us to reach - the only way to speak to future generations remains the written word durably made upon the page."
Impressive right? There's more. Check out their web page. These guys are passionate about providing excellent ink at a value.
It is an interesting twist that if you buy the 4.5 ounce bottle, which I did, they throw in a free fountain pen. Now, no it's not anything you would want to hand down to your children when you pass on, but it is very serviceable. If you're looking to try out fountain pens, this is the best way to launch yourself.
So, if I'm not concerned about the money I'm laying out, I'm going to buy a bottle of Sailor Black. It does everything Noodler's does without the bleed through. If I'm looking to stretch my dollar though? Yeah, Heart of Darkness.