We live in dangerous world, a world in which misunderstandings abound, and those misunderstandings lead to conflict. For example, it is my own ignorance of the Middle East that leads me to see Osama Bin Laden as a freakin' bloodthirsty demented moron who uses violence to compensate for having lots and lots of empty space in his head and his shorts.
My bad.
I'm sure that if I only knew more about him, I would see that he was in fact an honorable man who kills women and children only for the best of reasons.
To chip away at ignorance in the world and to promote cultural understanding, I am sharing with Piker Press readers the world over my observations of the Birds of Ripon. This week's bird is ...
The Junco
The White-Crowns must be pretty party-hearty, because when they show up, they bring with them an entourage that always includes the Oregon Junco (Figure 3). A very dapper little guy, the Junco is easily distinguished by his formal attire -- a striking black hood and tailored brown jacket (not readily apparent in this front view of the Junco) over a silver shirt.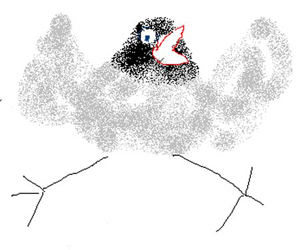 In our yard, there are always about ten sparrows for each junco. There is speculation about why the junco would choose to hobnob with the more raucous and pedestrian sparrows. It may be that the fellow has fallen for a chick from the wrong side of the tracks and finds himself the dandy at the annual family hog callin' contest. Or it may have been that the junco was working off a gambling debt owed to the sparrows. Then again it may be that the more solitary junco was simply lowering the odds of joining a hawk for lunch by hanging out with bunch of similarly sized birds, a kind of blending into the crowd. Whatever his reasons, the junco is always a welcome sight on the bird feeder.
Next Week: The Blue Jay