In answer to the persistent rumors about my political intentions, I would like to say that I am not now, nor am I likely to ever be a candidate for the office of President of the United States. I say this despite the fact that private polls indicate that I like myself better than Hillary Clinton by a two-to-one margin, three-to-one over Barack Obama, and I am in a statistical dead heat with Senator John McCain despite the fact that the Senator has been on the stump for years now. I realize that this leaves a void in the political landscape that may discourage some and incite others, but the truth of the matter is that my work with ornithology is far too important to be put on hold in order to wrestle the dragon of Machiavellian Intrigue.
But it is early. Perhaps when the election looms on horizon, the hair on my knuckles will grow thick and wiry, the bone above my eyes will thicken into a prominent ledge, I will develop screaming red ischial callosities, and I will jump about barking and snarling.
Just the thought makes you hot and gives you the chills at the same time, eh Hillary?
The Cedar Waxwing
The Cedar Waxwing is a pleasant and welcome winter visitor to the Ripon area. A flashy dresser, the Waxwings travel by bus on extended tours of berry producing trees and bushes. Just as human tourists descend on Napa Valley wineries to sample the latest Cabernets and Pinot Grises, these well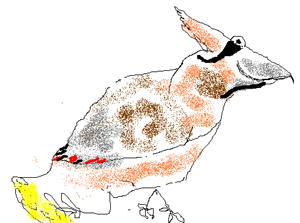 heeled riparian tourist descend on a tree by the bus load, excitedly (but very politely) flit from branch to branch, sampling the newest vintage, and then suddenly and quickly re-board the bus for the trip to the next point of interest.
I would have to say that I never met a Cedar Waxwing I didn't like. Polite, attractive, and good tippers, Cedar Waxwings are always enjoyable to have around.